On Oct. 10, Pink Floyd released "The Endless River," its first new album in 20 years. Something about the cover of "The Endless River," depicting a man sailing on a sea of clouds toward the sun, is distinctly Floydian. The seemingly mundane mixed with the impossible puts their 1987 album "A Momentary Lapse of Reason" in mind, as well as a host of other Floyd covers.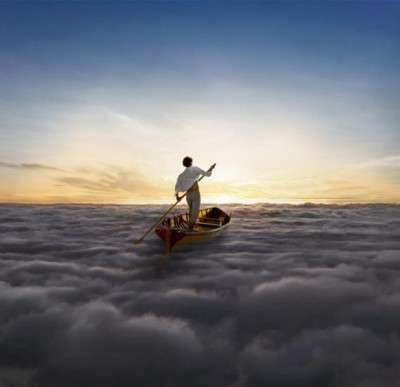 With a name as mystical as "The Dark Side of the Moon," "The Endless River" isn't exactly a new album. It was created from a stock of over 20 hours of unreleased and cut music from the band's last studio album, 1994's "The Division Bell." In a press statement regarding the album, guitarist and vocalist David Gilmour said that he and drummer Nick Mason "selected the music we wanted to work on for the new album. Over the last year we've added new parts, re-recorded others and generally harnessed studio technology to make a 21st century Pink Floyd album."
Mason, along with guitarist and vocalist Syd Barrett, multi-instrumentalist Richard Wright and bassist and vocalist Roger Waters, founded Pink Floyd in 1965, adding Gilmour in 1967. Barrett stayed with the band for only three years, leaving Waters as the driving force behind Pink Floyd for just under 20 years, until he left in 1985. In 2008, Wright passed away from an undisclosed form of cancer and — though the band hadn't produced any new music in over a decade at that time — this would be the straw that would kill Pink Floyd. Shorty after Wright's death, Gilmour and Mason began work on "The Endless River," describing it as a "swan song" to their deceased friend and colleague.
More than that though, it is a teary-eyed look back on the many years of Floyd. It doesn't do anything new or exciting for the band, but it isn't supposed to. Floyd sets the tone for the album early with the first track, "Things Left Unsaid." Those three words essentially sum up what "The Endless River" is: a celebration of the band's long history and its coming to a close. It's a memoir, not a revival.
"The Endless River" is unique in that, in its span of just under an hour, only one track is accompanied by lyrics. Instead, it's comprised of an incredible range of ambient and instrumental music, each style comparable to one Floyd album or another. In this way, it is a journey through the history of the band itself.
The album is split up into four sides, each lasting slightly over 10 minutes. Side one, comprised of "Things Left Unsaid," "It's What We Do" and "Ebb and Flow" is a rhythmic and relaxing string of melodies. The tempo is very slow and encourages listeners to close their eyes and be engulfed by the music. It is chilling.
Side two quickly kicks things into higher gear when Mason introduces heavier drumming in "Sum," which then takes center stage in "Skins." The first three tracks of side two are an ascent, both in tempo and in their darker tone. The fourth track, "Anisina," gives way to a far more joyful melody with its astounding selection of brass instrumentals.
"The Lost Art of Conversation," the opening track of side three, is an incredibly beautiful piece of keyboard work written by the late Wright. It is perhaps the most poignant ode to Wright's life and thus deserves its place at the center of the album. Side three continues in a sorrowful mood until its fourth track, "Allons-y (1)," an upbeat combination of guitar, drums and keyboard. Though Gilmour wrote it alone, it is meant to evoke an image of Mason, Gilmour and Wright playing together. It's short and catchy, and is immediately followed by the melancholic organ of "Autumn '68."
Side three's conclusion, "Talkin' Hawkin'," is perhaps one of the most memorable tracks from the album thanks to its slow piano accompanied by a joyous choir and a voice sampling of physicist Stephen Hawking.
Side four of the album is not as special or memorable as the rest of Floyd's "Endless River" until the final track — the last track on the last album that Pink Floyd will ever produce, and the only one on "The Endless River" with lyrics. Gilmour sings "Louder than Words," written by his wife Polly Samson. Lines such as, "We're more than alive" and "The beat of our hearts/Is louder than words" send shivers up the spine in the first few listens, and after a while beg to be sung along to. Somehow the lyrics, choir and even the guitar riffs punctuating the end of the song all seem incredibly final. Everything about "Louder Than Words" can bring a longtime Floyd fan to tears.
The album ends on the same quiet keyboard riff that begins "The Endless River," a very Floydian design choice and one that, much like the rest of the album, seems to be an excellent way to say goodbye to one of the most influential and successful progressive rock bands of all time.