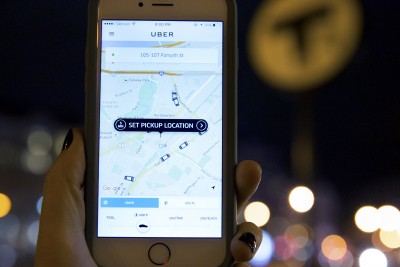 Uber Boston introduced a new late-night, flat-rate fare of $5 for uberPOOL rides near Massachusetts Bay Transportation Authority stations, according to a Friday press release.
UberPOOL riders who request an Uber within one block of a T stop on the Red, Orange, Green or Blue lines to travel to another T stop from 12:30 a.m. to 2:00 a.m. on Friday and Saturday nights will be eligible for the $5 rides, according to the release.
According the release, the flat fares were announced in response to the MBTA's decision to cancel Late-Night Service.
"In an effort to continue connecting Bostonians to the places they love, we're offering $5 uberPOOL rides along T subway lines during late night hours for four weekends," the release stated.
The flat-fare service will run on Fridays and Saturdays from March 20 to April 9, according to the release.
Barbara Jacobson, programs director of the Massachusetts Bicycle Coalition, said the private market has reacted positively to the cancelation of the Late-Night T service.
"Uber's response is a really interesting way that the private market is reacting to the demand that the public sector isn't able to maintain with getting rid of the Late-Night MBTA Service," Jacobson said. "I think that this creates an opportunity for other private markets and service providers to expand upon this model."
Jacobson also said private markets have recognized what is important for residents, and she hopes to see more responses like this.
"It's interesting that the private market has reacted so quickly to this demand," Jacobson said. "It showcases that these are important destinations for people, and we're definitely going to see more of this."
Charlie Ticotsky, policy director at Transportation for Massachusetts, said Uber is using a smart marketing strategy, but it may not be enough to help residents who depended on the Late-Night Service.
"It's a smart marketing strategy by Uber to try to fill some of the void that will be left by the cancellation of Late-Night Service," Ticotsky said. "There are definitely some opportunities in ride-sharing and microtransit to fill in some of the gaps that public transportation doesn't serve, but we are not convinced that that it will fully fill the void of the cancelation of service."
Ticotsky said T4MA is excited to see how groups adapt to provide alternatives to Late-Night Service to residents.
"It doesn't sound like the T will be financially subsidizing private Late-Night Service, but we are interested in learning more about what some of the innovative ideas are out there," Ticotsky.
Several Boston residents voiced their support for Uber's new flat fares.
Christina Carter, 27, of Brighton, said she's glad there's an alternative to the Late-Night Service.
"The Late-Night Service was a really important way to get around because other forms of transportation are really expensive," she said. "I'm just glad that Uber is trying to provide an affordable option for people to get home."
Kerry Jones, 44, of Allston, said he doesn't agree with the MBTA's decision to cut service but supports Uber's new service.
"I don't like that the MBTA is raising the fares when they're going to stop the Late-Night Service while the college kids around here don't start going home until like 2 or 3 in the morning, when the bars close," he said. "I'm all for the Uber service. And as far as I'm concerned, the T is raising their prices and then giving us no service for it."
Dawit Yosief, 24, of Brighton, also said he disagrees with the MBTA's decision to cut Late-Night Service.
"It's fascinating that the MBTA was willing to cut something that was working so well for so many people," he said. "A lot of people will tell you that one of the major problems with this city is that can't do anything after 12 because the T shuts down."
Yosief added that he believes the new Uber service will be helpful for residents.
"It's amazing that Uber is doing $5 rides. It's going to improve a lot for residents," he said. "I'll definitely be taking one of those rides."