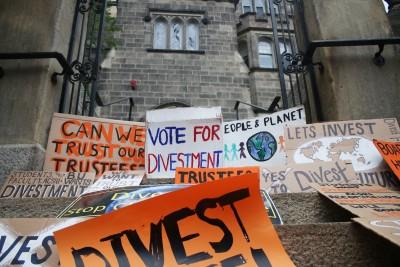 Boston University will do its best to avoid investing in companies that extract coal and tar sands, President Robert Brown announced in a letter to the BU community Tuesday.
The decision came after the BU Board of Trustees reviewed three proposals last week from the Advisory Committee on Socially Responsible Investing proposals last week.
In its first proposal, the committee recommended the university divest its endowment funds from fossil fuel companies.
While the Board of Trustees said the university will avoid coal and tar sands investments in the future, "perfect implementation cannot be assured," according to Brown's letter.
BU spokesperson Colin Riley said the university no longer knowingly invest in the select fossil fuel companies, but when the university invests its endowment in mutual funds, the administration may not be completely aware of what the the funds' managers choose to invest in.
Riley said the decision could result in divestment from some current holdings as well.
"We hopes to create a better future for [the students'] generation," Riley said.
The board will revisit this decision every five years, Brown wrote.
Members of the BU community have long advocated for fossil fuel divestment — on Sept. 9, 2014, a delegation of 245 professors from a variety of departments submitted a petition for fossil fuel divestment to Brown.
Approximately 80 members of the BU community rallied on Marsh Plaza last Wednesday, urging the Board of Trustees to listen to the community and to divest funds from fossil fuels. Divest BU hosted the rally and was not immediately reachable for comment Tuesday.
The BU Board of Trustees also endorsed ACSRI's two other proposals, which include expanding the university's investment in renewable energy and developing a detailed Climate Action Plan to reduce BU's carbon footprint.
Divest BU, a coalition that advocates for fossil fuel divestment, wrote in a statement that despite BU's plans to avoid investments in "some of the worst green house gas emitters" like coal and tar sands, the university's other investments in oil, natural gas and other fossil fuels are "morally unacceptable."
The coalition stated that they will keep demanding the university make a "meaningful and substantive," as opposed to the Board of Trustees' "vague language that does not guarantee a commitment to divestment."
An earlier version of this article was unclear about what specific fossil fuels BU is avoiding investment in. The above story reflects this change. We apologize for the vagueness.