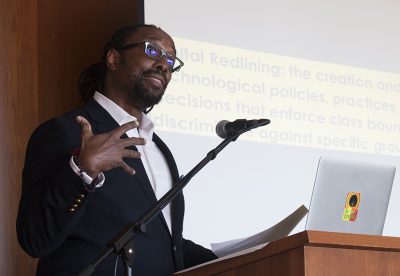 From basic necessities like communication and education, to more complex needs like national security, technology is integral to modern people's lives. Christopher Gilliard, a professor at Macomb Community College in Michigan, discussed in a talk Monday titled "Situating Innovation" whether necessary technology is actually accessible to everyone. 
The talk was the third in the Boston University Digital Learning Initiative's Fall 2016 Speaker Series, which "hopes to inspire conversations about the uses of technology, its impacts and its promising possibilities," according to Diana Marian, the project manager at the DLI.
Gilliard began the talk with an example from Hillary Clinton's presidential campaign. He talked about how her campaign intended to place voting booths in the same areas as Pokemon Go gyms, as the game's recent popularity ensured that these areas were highly frequented. However, there was a greater density of gyms in predominantly white neighborhoods, compared to neighborhoods that were predominantly occupied by people of color. 
"Was Hillary Clinton's campaign intentionally racist? I don't think so," he said.
Using examples of companies such as Amazon, Uber and Facebook, Gilliard discussed the companies' algorithms, which are often relied on to determine areas that should be given the option of same-day delivery. These algorithms are designed with the intention of increasing profits, he said; however, they often unintentionally end up excluding certain communities.
"If we don't actively work to prevent this redlining, we are inevitably redlining," he said.
Gilliard also talked about how students from low-income families tend to be less academically successful than their wealthier counterparts. Schools and colleges often require students to consult videos and other online materials only accessible with high-speed internet. There are still some students who do not have access to the technology required, though.
"I think the first step to correcting this situation is creating awareness," said Stine Grodal, a professor of strategy and innovation in the Questrom School of Business. "The other students and teachers often come from families where it's just taken for granted that everyone has access to these technologies."
Sometimes, students may own phones and laptops, but they aren't the latest models, so they are incompatible with the required online materials, Gilliard said.
"Universities are set up with the belief that of course everybody has a laptop," Grodal said. "Of course everyone has access to internet, and they forget that there are actually still a lot of disadvantaged people living in the United States that don't have that kind of access, and this often increases the pre-existing inequalities."
Vika Zafrin, the digital scholarship librarian at the Mugar Memorial Library, attended Gilliard's talk and said she thought she might be able to use some of what she learned to improve her work at Mugar. 
"I found the speech very useful because what I do at the library right now involves setting up a new department," Zafrin said. "I think it is very important for us to keep a perspective on how the services we set up include or exclude people, and how it percolates out, and how maybe it should be informed by what's outside BU walls, whether it's in Detroit or Roxbury."
Like Zafrin, Gilliard said innovators need to think about how their new technologies will exclude certain groups of people. He also said to keep in mind that technology can be used differently from community to community.
"I would just like to encourage people to think about the ways decisions made about technology can have such wide-ranging effects," Gilliard said. "Because people don't always have the same technology, and even if they do, they often don't have the same way of using it."
During a Q&A session at the conclusion of the talk, Gillard touched upon the future of innovation and how to keep moving forward.
"Innovation happens," Gilliard said. "But when it happens to people or things, it's called disruption for the most part. So what does it mean to get innovated, really?"