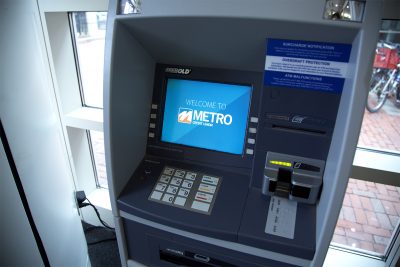 By Laney Ruckstuhl and Ellie French
Several students have reported check deposit scams on Boston University's campus in the past weeks, according to an email BU Police Department Acting Chief Scott Paré sent to the community on Monday.
In each case, the victim has been approached near an ATM on Commonwealth Avenue and asked to deposit a check for several hundred dollars into their account using the ATM, Paré wrote in the email.
"The reported suspect claims not to have a bank account and that the cash is needed for some important purchase," Paré wrote. "The suspect requests cash based on the amount of the check deposited or slightly less, telling the victim to keep the extra money. The checks are later returned by the bank to the victim as worthless forgeries. As a result, the victims have lost all the money given to the suspect."
Paré urged students not to cash checks using their bank account for anyone they do not know.
In an email to The Daily Free Press, Paré wrote that BUPD has received at least eight reports of scams at various ATMs from Kenmore Square to Brighton Avenue. They have several descriptions for two different suspects and are currently in the process of attempting to identify them.
Dean of Students Kenneth Elmore said emails like this one from the BUPD help remind students to keep their guards up while on campus and help them to remain safe.
BUPD has recently warned students about other crimes on and off campus, including an email regarding off-campus robberies and a video posted to the department's Facebook page about larcenies on campus, The Daily Free Press reported.
"We do go about our business and we feel safe, and there are those few people that will want to take advantage of us," Elmore said. "I think it's just [the police] trying to be proactive."
BU spokesperson Colin Riley said students need to be aware of the scams on campus and be conscious not to give anyone their personal information.
"[BU students] should be concerned about all of their personal information and particularly all of their financial information," Riley said. "It's one that more and more people fall victim to."
Riley said BU is located in a generally safe area, but students should not take this for granted by not staying aware of their surroundings.
"One of the things with phones and other electronic devices is people are distracted maybe crossing the street or not paying attention to their surroundings," Riley said. "Ideally, it's always better to be walking in company with people as well. There are criminals. We can't close our eyes and pretend they don't exist. In fact, we need to be alert."
Riley added that officers from the Boston Police Department are patrolling and looking for suspects and investigating the cases.
Several students said they thought being alert and aware was the most important thing students could do to stay safe.
Isabel Torres Anguiano, a sophomore in the College of Arts and Sciences, said she thinks BU could do more to promote awareness of the issue.
"I think BU needs to do a better job of educating people on the scamming that's happening and letting people know what's happening, because if people are aware that that's going to be an issue, then it'll be prevented," Torres Anguiano said.
Eileen Nolan, a sophomore in the Sargent College of Health and Rehabilitation Sciences, said the only thing that BU can do to help is make sure students are informed about what's happening.
"Honestly I think that just making people aware of it is probably the best that they can do at this point," Nolan said. "It seems like that's what they're doing, I mean I heard of it, I know my friends have heard of it, so like aside from increasing security at every ATM, I don't think there's too much else they can do."
Lelei Pina, a senior in the College of Communication, said she thinks that staying skeptical will help students keep their money safe.
"[Students need to] ask a lot of questions and then never give their money to anybody who isn't like an official bank," Pina said. "I think that kids need to be a lot more vigilant and a lot more self-aware, and have a little more common sense."
Pina said being on a college campus can give students a false sense of security, which is what gets them into trouble.
"I think kids in college need to be aware that we do live in a city and although we like to live in our little BU bubble, the things that happen here are real," Pina said. "Also if you think something is happening, I would report it immediately, even if you don't fall for the scam … if you see something you need to say something."