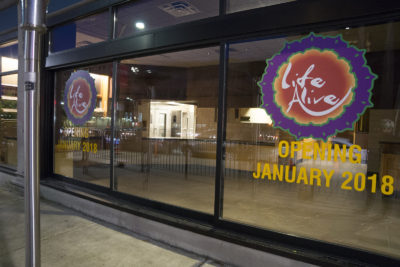 Life Alive Urban Oasis and Organic Cafe, a Boston-based organic and vegetarian cafe, will be opening its fourth location in January at 888 Commonwealth Ave., said the chain's Cambridge General Manager Max Pelham. The West Campus location formerly housed a Panera Bread that closed in May, The Daily Free Press reported.
Pelham said the mini-chain has been looking for a fourth location for a while, and Boston University's demographic coupled with Panera's vacated lease granted them their opportunity.
"I think BU has always been a huge supporter of us. We had their vegetarian club in here last year," he said. "Students need to eat. We definitely see plenty of BU shirts in our crowd, so we know there's a good amount of students who want to eat their vegetables."
Pelham, who will become the new location's general manager upon opening, said the fast-casual cafe plans to bring healthy, convenient food to BU's campus.
"Our whole goal is accessibility," he said. "That goes from price to making organic affordable to making good, healthy food simple to eat."
Since finalizing the lease about a month ago, Pelham said the Life Alive team has been reinventing their concept in a "more BU, Comm Ave.-centric way."
"We're going to start making some new, cool desserts and exploring the boundaries of vegetarian, vegan, raw [and] delicious options," the manager said.
He added that West Campus' location will integrate itself into BU's community by employing its students and acting as a gathering spot.
"It'll be exciting to have a ton of students come in," he said. "They can work, hang out, eat lunch, drink coffee and have a good time."
Juliet Beauchamp, a senior in the College of Communication, said she and many of her friends are "over the moon" about Life Alive's expansion.
"I'm absolutely thrilled about Life Alive," she said. "The other night I got it Postmated to me and it took 45 minutes from Central Square. I love it so much."