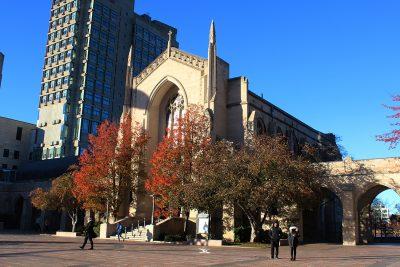 Boston University has advanced four spots in the 2019 Wall Street Journal/Times Higher Education rankings of U.S. colleges and universities, rising from No. 40 to No. 36.
The ranking methodology looks at aspects of the university including resources provided, student engagement, post-graduation outcomes and university environment, according to the Times Higher Education website.
While these rankings validate BU's progress and status as a world-class university, BU President Robert Brown wrote in an email that BU's administration will try to improve the school even further.
"I am very pleased that the metrics used by the WSJ/THE survey validate the progress Boston University is making in attracting very talented students to the University and giving them a world-class education," Brown wrote. "We are continuing investing in improving our programs and in hiring the most talented faculty members we can find to improve the University."
While Brown wrote that he has not yet been able to study why BU's ranking increased this year, he added that BU's recent actions relate to areas emphasized in the WSJ/THE survey's methodology.
"[WSJ/THE's] focus on outcomes and student experience aligns with much of our investments," Brown wrote, "such [as] the recent creation of [email protected], the opening of the Booth Theatre on campus, and the expansion of resources for the Howard Thurman Center."
University Provost Jean Morrison said it is hard to tell why rankings change each year, but one important focus of the WSJ/THE rankings are issues important to students.
"I think the THE/Wall Street Journal is a very valuable ranking because it looks at very student-centric aspects," Morrison said, "and so, in that sense, it pushes us toward metrics that are focused on the student experience."
Since numerical scales vary by survey, Brown wrote that they are less important. What matters, he wrote, is where BU ranks compared to other private universities like New York University, Tufts University and Boston College.
"Although no single ranking captures all aspects of Boston University," Brown wrote, "the rankings are important in aggregate as student, parents, and potential sponsors see the rankings as broad indicators of quality."
Morrison said ranking is not necessarily the most important aspect of a university. However, it is one of the many publicly available pieces of information looked at by students, families and faculty, she said.
"It's always better when we go up, and we've gone up a couple of spots from 40 to 36," Morrison said, "and it reflects the increasing quality of the institution."
Nina Castano, recent transfer student in the Sargent College of Health and Rehabilitation Sciences, said she felt the ranking would boost her chances of getting a job.
"I think [the ranking] will definitely help me with employment," Castano said, "because you hear the school 'BU' and people automatically know it's a prestigious school."
Castano said she feels lucky to attend a university that is so highly ranked.
"It makes me feel intimidated," Castano said, "but I feel like I'm really lucky to be in a school that will give me all the opportunities it can, and I feel like it really gives me an advantage to be here as opposed to at another school."
Ahmet Akbiyik, a doctoral student in the Graduate School of Arts and Sciences, also said BU's good ranking could have a favorable impact on his employment. The awards won by the faculty in his department of study are a good indicator of BU's achievement, he said.
"I'm really happy about [the new rank], and I hope it keeps improving," Akbiyik said. "I'm from the political science department, and several instructors and scholars recently won awards at a conference for our field, so it is very visible that BU is a good university."
Neetu Wadhwani, a senior in the College of Communication, said it means a lot to her that the university she will be graduating from is so highly ranked.
"I'm very proud that we've gone up in rank," Wadhwani said, "and it's very important to me to know that what is gonna soon be my alma mater is such a widely recognized school."
Wadhwani said that she believes the high ranking on an outlet like the Wall Street Journal will be reflected in the quality of education and resources available to students.
"Just knowing that the next generation of students coming to BU are going to be able to access [these resources] feels amazing," Wadhwani said. "And as a soon-to-be alumni, just being part of a network that's ever-growing and ever-improving is a matter of great pride for me."