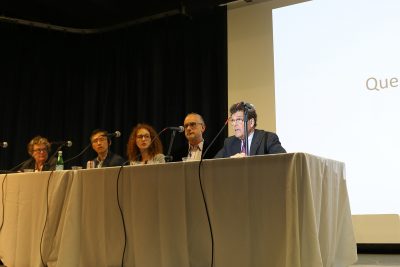 Boston University students and faculty gathered Tuesday night in the George Sherman Union to engage in discourse and reflection on the midterm elections last week.
The forum was hosted as one of the BU Student-Faculty Forums, a joint effort by the Boston University Dean of Students office and the Howard Thurman Center for Common Ground.
Virginia Sapiro, moderator and political science professor, wrote in an email before the event that she spearheaded the BU Student-Faculty Forums last year in order to foster discussion of issues among students of different disciplines and to provide research by faculty to guide the discourse.
Panelists at the forum included College of Communication Dean Tom Fiedler, communication professor Denis Wu and political science professors Lauren Mattioli and Graham Wilson.
Fiedler said before the event that he hoped that the panel could provide insight for attendees and help clarify America's future direction.

"Hopefully, we can have a discussion that would … generate some good, in-depth thinking and reflection about where we are and what this election may tell us about that," Fiedler said.
During the forum, Sapiro presented some of her research centered around party identification, midterm voter turnout and the impact of demographic characteristics on voter choice.
She ended her research overview by discussing the historic rise in the number of women in Congress to 23.2 percent. Although this proportion is a record high, Sapiro said she is unsatisfied, feeling that there is still a long way to go.
"Isn't that terribly exciting? Sure," she wrote on her slide, "But the 19th Amendment was ratified 99 years ago, and the population is 50% women."
One of the most pervasive topics of discussion at the forum was the long-anticipated "blue wave" and the debate over whether or not it actually came to fruition.
Fiedler said that although the long-anticipated return to power for Democrats did not manifest itself in the way many expected, the left side of the political spectrum made many gains.
"On election night, the first analyses seemed to come out and say, 'Well, it was kind of somewhere in the middle, it was a little blueish, but it wasn't the big blue wave,'" Fiedler said. "I think now, as we have seen the election results harden up a little bit, it's moving back toward, yes, it was a significant blue wave."
Another popular topic among the attendees of the forum was political polarization and its accompanying rhetoric. Wu, whose research is centered around the media, said xenophobic and populist sentiments abounded in this election and can be seen not just in the United States but in European and Latin American governments as well.
"I feel that this kind of a populist zeitgeist is not just limited to America," Wu said. "It actually can be seen all over the world."
Many of the attendees' questions looked at how the 2018 elections would affect policy in the future. Mattioli said presidents behave differently when Congress is divided, pursuing smaller legislative programs, vetoing more legislation and taking more unilateral action.
"I don't believe [Democrats' control of the House of Representatives] will have much policy impact," Mattioli said. "Trump was already struggling in the legislative arena, even under unified government. His key victory was tax reform, and under the current House composition, this would not get passed."
Wilson, who directs the BU Initiative on Cities, said party shifts in state legislatures could prevent states from restricting cities on issues such as abortion rights, the death penalty and climate change.
"Cities are aiming to make sure that the United States, in spite of the Trump administration, honors the commitment made in the Paris Agreement on climate change through city-level action," Wilson said. "When the cities try to take this sort of progressive action, they have constantly found that state legislatures have stepped in to preempt their authority and forbid them from undertaking important policies.
Desmond Molloy, a senior in the Sargent College of Health and Rehabilitation Sciences, said he came to the forum because he wanted to discuss the election in an environment that was politically oriented and well-informed.
"I talked about it off-hand with a few friends, obviously, but not a lot of them are interested in American politics the same way I am," Molloy said. "So I was looking for something like this, and I saw the event on Facebook and figured, 'Oh, good fit.'"
BU alumnus Jim Verquist, who received a master's degree from the School of Management — currently known as the Questrom School of Business — in 2005, said the voter demographic data presented in the forum did not necessarily reflect the shift in Republican demographics that he expected.
"I feel that Trump has fundamentally shifted that coalition," he said. "I'm not sure that the data shows that. … I feel like the data almost masks the dramatic shift that has actually happened."
Verquist said he came to the panel to discern what others took away from the election.
"The midterms was the first opportunity for people to assess what's really going on in America," Verquist said. "So I wanted to see how people felt about that. What did we learn from it? I think a lot of people have been waiting for two years."
CORRECTION: A previous version of this article incorrectly stated that the number of women in Congress had risen by 23.2 percent. An updated version of this article reflects this correction.