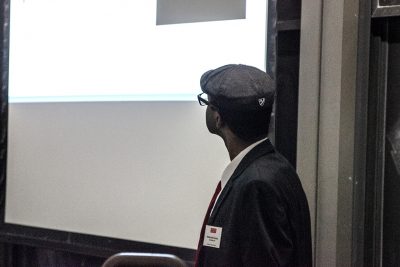 Boston University's Student Government met Monday night to discuss an act on dining hall labels and vote on an initiative to provide free menstrual products in campus bathrooms.
Senators Hayley Gambone and Nehemiah Dureus presented their proposal to fund a semester-long pilot program that will provide free menstrual products for students on campus.
"I don't know how many of you guys use the female restrooms, but, if you do, you have probably noticed that the tampon and pad dispensers are not working, non-existent or working but not stocked," Gambone said.
Eight of BU's roughly 320 bathrooms have functioning dispensers, according to Gambone.
The pilot program would take place next semester, and the results of the program would be used to collect data to potentially support a permanent solution for the lack of free menstrual products on campus.
The program would place 15 baskets at 15 different bathroom locations on BU's campus, Dureus said. Each basket would contain 100 tampons and 50 pads which would be restocked every week.
The senate voted both to fund the nearly $7,000 proposal and approve the creation of an ad hoc committee which will handle the organization and distribution of the menstrual products. Both parts of the proposal were passed.
Aidan Connors, a freshman in the College of Arts and Sciences, said he was glad the proposal passed.
"I think they really killed that one," Connors said. "It's one of the best ones we've seen, and I'm really excited about seeing where it goes."
Arthan Bhatt spoke to the senate about his proposed Food Equality Accountability and Safety for Transparency (FEAST) Act of 2018, which aims to add additional food description labels to BU's dining halls as well as fix inaccurate or misleading labels.
The senate continued their discussion from last Monday's meeting on the act in order to provide Bhatt and Aditya Jain, who also worked on the proposal, feedback to improve and refine their idea before it is voted on.
Kyle Woolley, a junior in the Questrom School of Business, said he supported the act's goal of fixing misleading labels on dining hall food, as he has faced health issues from mislabeled food in the past.
"I've had two minor allergy attacks from dairy in the dining hall," Wooley said to the senate. "One time the potatoes were listed as vegan, it said they were made with oil, but really they were made with butter. It's a problem."
Others, like Katherine Kahley, a senior in the College of Communication, questioned whether aspects of the act would actually be beneficial to the student body.
"I'm not sure if adding more subsections in the labels, like where nutrition facts are added, will be fruitful," Kahley said. "I worry that this will negate the effort of making people aware of allergens and things like that."
SG plans a vote on the FEAST Act next semester.
Senate Chair Andrew Chiao spoke about his meeting last Wednesday with the Student Affairs Committee of the Board of Trustees.
"We had a really good conversation," Chiao said. "We tried to bring attention to the issues that you have been raising. Your voices don't die at Student Government. We are really trying to take your concerns and elevate them all the way up."
SG President Devin Harvin concluded the meeting with his presidential address where he congratulated Chiao, his cabinet and the senators for a "great semester."  
Harvin also addressed the recent controversy at Boston College in which a student was arrested and suspended for writing racist graffiti in a BC residence hall. Harvin said he reached out to the president of the Boston College's student government to offer his support during the "very difficult time."
"We just wanted to let them know that, even if we are across the city from them, we stand with them and we support them," Harvin said. "Hate doesn't live here, and if it lives there, then it impacts us here, and, Martin Luther King said it best, 'Injustice anywhere is a threat to justice everywhere.'"
Overall, Chiao said the semester went well, as senators were more involved in creating proposals and participating in discussions. He said he hopes to continue the enthusiasm next semester.
Lexi Matthews contributed reporting.