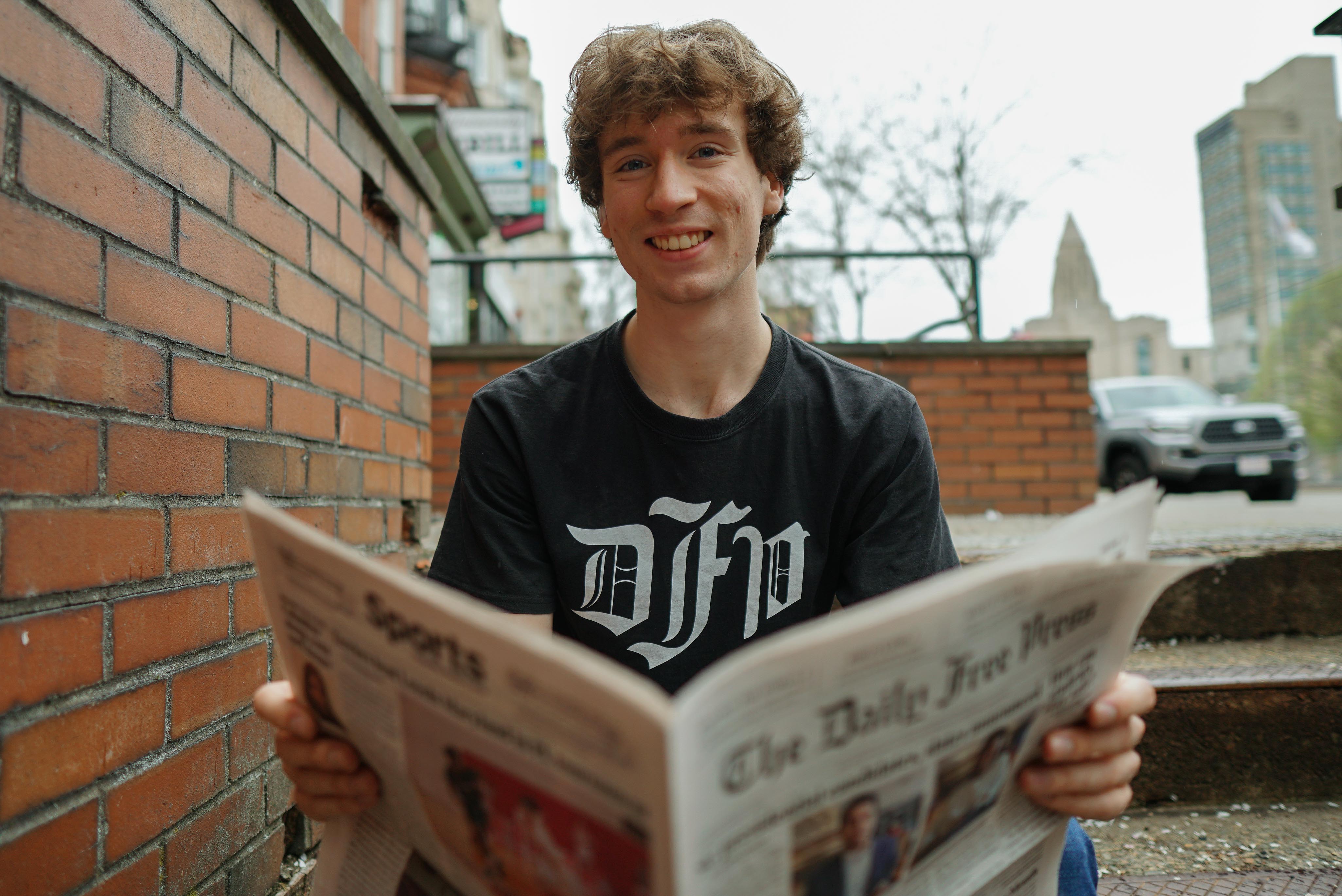 I walked in to The Daily Free Press on my first night of college with a copy of Adobe InDesign, no idea how to write a news story and little notion of what to expect from the Independent Student Newspaper at Boston University. Four semesters later, I can say this: I've still got my InDesign, I'm fairly versed in the inverted pyramid and I've probably learned everything there is to know about this place — a place I can't believe I'm finally telling goodbye.
I don't think I've gone a week in Boston without stepping foot in the FreeP office, be it the old ragtag rooms in Kenmore Square or the new cookie shop basement in the heart of Central Campus. This paper sits at the very core of my identity as a student at BU, and looking back now in my final days as an editor, there's no way I'd rather have it.
Like it did for so many before me, the FreeP taught me everything I know about how and why to be journalist. It's a place that taught me how to pitch, interview, write, shoot, edit, post and inform. It's a place where I've laughed and a place where I've cried. A place where, every day, I have the privilege of working alongside people so talented that I'm humbled to call them friends.
This was a defining semester in the history of our paper — for probably the first time in some 49 years of publishing, we went weeks without printing a single issue. In February, the Board of Directors announced we would only be able to print if we had print ads. For about a month from early March to early April, we had no print ads.
In the end, though, we printed more weeks than we didn't. And in the wake of the announcement three months ago, the support we received from students, faculty, alumni and readers alike was nothing short of incredible. It was telling, I think, of just how much people care about the work this paper does.
We forged ahead with new multimedia initiatives this semester, bolstering our social media presence and laying the groundwork for a new website. We made our Snapchat Publisher story even better. And we created a dedicated podcast desk that gets better every week and is unrivaled at any other college outlet I've seen.
We were also around for some pretty great stories these past few months — like when the Patriots brought home another Super Bowl trophy, when the BU women's hockey team won their first varsity Beanpot and when the university hosted its first spring concert in half a decade.
We reported on BU's low faculty diversity, Mail Services workers slated to lose their jobs, the impact of students who use fake IDs, issues with the BU Shuttle, conversations surrounding divestment and investment, the revenue BU makes from application fees and changes to a Latin honors policy. We also, and this is important, wrote the definitive story on real-life Rhett.
For much of this work, along with the tireless work of last semester's editorial board, we were named New England College Newspaper of the Year. That was pretty awesome.
To my editorial board — Sam, Nick, Ananya, Gab, Max, Audrey, Haley, Michal, Chloe — I will truly miss working with every single one of you and the energy and passion you bring to 708 Commonwealth Ave. Thank you for taking in stride my unbridled proverbs, intolerance for Pad Thai and sometimes indecipherable Google Docs comments.
To Diana — I never could have made it through this semester without your leadership, your skill and your humor by my side. We'll never agree on the best bottled water brand, but other than that, I think we've made every decision in tandem. I'm going to miss our Subway runs, our ant-trapping antics and our lengthy conversations along Bay State Road at 4 a.m.
And to all the associate editors, writers, photographers, videographers, podcasters and designers who bring this paper to life each day — thank you. I may not have met every one of you, but I can say this for certain: you are all fantastic at what you do. Make the most of every assignment because like everything in life, your time here goes too fast.
When we announced our limited printing in February, I wrote in a tweet there is no one better equipped to deal with a changing media landscape than the people who grew up with it — us, the student journalists and reporters. I really believe that.
Because whatever the medium, be it print or anything else, we did, and we will continue to serve the BU community with the authority of our independent voice. This is a place where students are free to uncover the truth in the institution and the city around us, a pursuit rooted in our journalism but ultimately defined by our curiosity.
What is it they say? Keep on FreeP'in on? Do that. I'll be rooting for you.
Shaun Robinson
Editor-in-Chief, Spring 2019