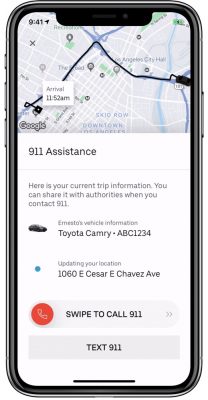 Uber released its emergency call button to drivers and riders across the Bay State last Thursday, allowing users to contact emergency services directly through the app. While the program was rolled out in cities across the U.S. last year, Massachusetts is the first in which the function is available throughout the entire state.
When pressed, the button dials 911 while simultaneously sharing the car's make, model, license plate number and live GPS location with emergency dispatchers. In Massachusetts, the feature had previously been limited to a number of cities, such as Boston, Cambridge and Springfield.
Chad Dobbs, head of rides for Uber in Massachusetts, said in an Uber press release that the emergency call button will enable emergency services to respond to a situation in a shorter amount of time.
"Safety is at the heart of everything we do, and we believe technology can help make the roads safer than ever before," Dobbs said in the release. "Every second counts in an emergency, and we want to make sure our users get help quickly with accurate information if faced with an emergency situation,"
Uber partnered with RapidSOS, a software company specializing in emergency tech, to create a way to share this emergency information with first responders, according to the press release.
Jeff Robertson, senior vice president and general manager of RapidSOS, said in the Uber press release that the company was glad to make this feature available to all Massachusetts drivers and riders.
"Our mission is to connect the world to public safety to get the fastest and most appropriate care possible to an emergency incident," Robertson said. "We are excited to expand our partnership with Uber to the state of Massachusetts, connecting life-saving data from riders and drivers to all 911 centers across the state."
Connie Chung, a senior in the College of Arts and Sciences, said she is both an Uber driver and a rider and that she was glad that both drivers and riders were able to use the emergency feature.
"I think it's great that Uber has [the button] on the app for both sides and I think that's part of the reason why you see the prices go up because you see they added those safety features that they didn't before," Chung said. "I myself don't have any sort of experience with using it, but I do know it's there and I do appreciate that it's there."
Colleen Farr, 28, of Brighton, said she did not know the feature was available but said that the safety features do not dispel her apprehension towards rideshare apps such as Uber and Lyft.
"I think [whether or not I use Uber] really just matters on how thorough they are at running background checks, because if they're not, then you shouldn't have a panic button," Farr said. "They would cancel each other out."
Daniel Girardi, 27, of Kenmore/Fenway, said having a panic button would make him slightly more open to using the app, but said he still prefers public transit.
"I guess the more they invest in the safety features, the more I would feel comfortable seeing that company as legitimate because, for example, as a consumer, I don't really trust things in general," Girardi said. "So, knowing that [with] Uber, anybody can pick up and do it makes me reluctant to use Uber, but with the additional safety feature maybe influences me a bit."
Donna Wolfe, 60, of Roslindale, said she was worried that Uber users will misuse the new expanded feature.
"The only problem is in the same way that when you dial 911, not everything you call is going to be an emergency," Wolfe said. "So, when you have a panic button, it could be very expensive to have the police come every time it's pushed"