Boston University Dining Services offers a flu meal package for those who are feeling under the weather, yet many students who have tried to utilize the service have taken to social media about how the so-called Rhetty To Go meals are not, in fact, ready to go in three hours as their website states.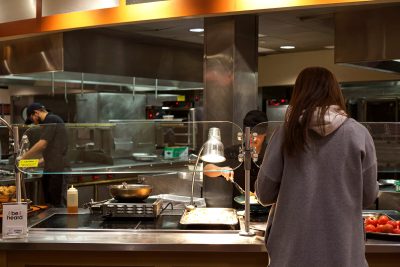 According to the BU Dining Services website, a flu meal is "a special care package of soothing foods for upset stomachs your Flu Buddy can bring to you." 
However, students are saying that their requests for flu meals aren't being fulfilled. Many students claim that although they're placing their orders three hours in advance, per the instructions online, the earliest pickup time is always listed as the next day. 
Sammy Stoker, a sophomore in the College of Communication, was one of the students who took her complaints about the flu meal service online. She tried to utilize the service last year while she was sick, but had a less than satisfactory experience. 
"A lot of the issue was that it said it went through – I think I got an email or something – and then I just went downstairs [to the dining hall], and said, 'Hey, I have a flu meal!'" Stoker said. "And they were like, 'What?'" 
According to Stoker, the meals were never prepared when she went to pick them up. She said some dining hall workers did not even know what the flu meal service was. 
"They would refer me to the dining hall manager, and she would be like, 'Can you wait for a few minutes?' before running around, grabbing everything, because they never had it when I came in," Stoker said. "It was never ready in [three hours]. They clearly didn't even have the organization to have the meal. It didn't seem like it really mattered."
BU Spokesperson Colin Riley said, knowing what the dining services usually do, these Rhetty To Go meals are not in line with what they are used to prepping. 
"It's out of the norm for them," Riley said. "They're essentially preparing meals within the dining hall and not necessarily preparing flu service meals, which are special."
Riley wrote in an email that the lack of efficiency from BU Dining Services about the flu meals is due to the nature of the Rhetty To Go meal system. 
"The issue stems from the fact that same-day Rhetty To Go meal requests need to be read off the system manually, while those posted a day or more before show up in the system on the day they are requested and are then prepared for pick up," Riley wrote. "As you know, BU Dining occasionally gets really busy and they may not have pulled recent submissions off the system to meet the 3-hour time frame and they apologize for that."
Riley wrote in the email that these flu meal requests will be monitored more frequently during the flu season. 
"With the increase in same-day requests because of seasonal colds and flu," Riley wrote, "there is, and will continue to be, more frequent monitoring of same-day Rhetty To Go meal requests."
According to Omar Cabrera, community health education manager at the Massachusetts Department of Public Health, the flu virus can be spread during close contact. Dining halls are thus a primary location where this can occur. 
"The flu virus is spread through droplets of saliva and mucus from the nose and mouth," Cabrera wrote in an email. "If you are close enough to a person with the flu (three to six feet) when they cough or sneeze, you can breathe in the virus and get sick."
Alisha Saint-Ciel, a first-year graduate student at COM, said she thinks increasing the amount of employees, specifically student workers, focusing on the flu meals could solve the problem.
"I think it's ridiculous because this school is so expensive, so I feel like if they're implementing a program, they should've worked on it harder," Saint-Ciel said. "Maybe they should hire more students to work, because a lot of students are looking for jobs." 
Astoria Song, a sophomore in the Questrom School of Business, said she is discouraged by the lack of efficiency with the flu meals and is thus hesitant to utilize the service. 
"I think it's very disappointing, because according to the website, they said they would deliver the food within three hours, but they failed to do so," Song said. "I don't know if I should trust the system."
Lia Weil, a sophomore in the College of Arts and Sciences, said her previous attempt at using the service did not go well. 
"I actually wasn't feeling well one time, so I looked online, and I saw that they had that. But it was past the time when you could have ordered three hours ahead, so they could only give it to me the next day," Weil said. "I was like, that's not really helpful."