Nine Boston University alumni have been included on this year's Forbes 30 Under 30 list, an annual ranking that highlights 30 young entrepreneurs across 20 different categories. 
The recent BU graduates on this year's list have gained recognition across several fields, including Hollywood and entertainment, art and style, healthcare and enterprise technology. 
BU spokesperson Colin Riley said the university is proud to see the alumni being recognized for their accomplishments.
"These are outstanding individuals and we're proud of their stunning early successes and achievements," Riley said. "And, of course, that goes for all of our wonderful alumni family."
Ben Levine, a 2012 graduate of College of Arts and Sciences, is a television agent at Creative Artists Agency, and has represented talent across several mediums, including Antoni Porowski and Jonathan Van Ness from Netflix's "Queer Eye," Leslie Jones from "Saturday Night Live," and Martha Stewart. He was recognized in the Hollywood and entertainment. 
While at BU, Levine was an international relations major concentrating in security studies. He said his transition to entertainment was somewhat accidental. 
"It was all a big accident," Levine said. "I was in CAS and I was an IR major, and I thought I wanted to go into the CIA, but realized very quickly that I was terrified of guns, so I started applying to other internships [in media]."
Levine focuses on representing underrepresented talent, particularly in the LGBT community.  He said he believes diversity and inclusion are essential to modern storytelling, and sees a need in the entertainment industry for consistent amplification of marginalized voices.   
Levine said his time at BU allowed him to explore a variety of fields and interests, which ultimately helped guide him to his current career path. 
"I think what I appreciated most about BU was the flexibility to do whatever I wanted to do," Levine said. "There is so much cross-pollination across all the schools, even though you're siloed. That gave me a really broad understanding of what it was that I loved and what it was that I didn't love." 
Levine said his advice to current students would be to immerse themselves in their field of interest, and learn through experience.  
"Immerse yourself in the hub of what it is you're trying to explore and do something that makes you feel uncomfortable," Levine said. "And with that said, walk before you run… it took me a really long time to get to where I am, and it's all paid off. But I think just being a sponge and absorbing and learning from people who have had experience is so instrumental." 
Bryan Patenaude, a healthcare economist and assistant professor at the Johns Hopkins University Bloomberg School of Public Health, was recognized in the healthcare category. He received his master's in global development economics from BU in 2014.  
Patenaude focuses on effective and sustainable aid interventions in developing countries, particularly in the realm of healthcare and disease prevention, and is currently leading a project examining the rate of investment for vaccines in 94 countries. He credits his time at BU for introducing him to his current specialization in public health and health economics. 
"It was pretty pivotal being at BU, because prior to coming there I had m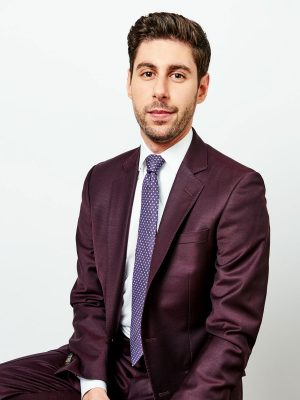 ostly focused on public finance and larger development," Patenaude said. "At BU, for the first time, I was really exposed to public health and health economics, which is eventually what I decided to do my PhD in and is currently the primary area that I work in."
Patenaude said he believes strong statistical skills and field experience are essential to launching a successful career in development.  "Develop good statistical skills and make sure you get out into the field," Patenaude said. "I think there are a lot of people who try to stay in academia and really want to do everything straight through without necessarily getting that field experience, but I think that if you're able to [do that], it's invaluable."
Riley wrote in an email that many of the recognized alumni remain active with the BU community. 
Amber Vittoria, a 2012 graduate of the College of Fine Arts, was recognized in the art and style category for her illustrations, as well as work with high-profile brands like Google and Warby Parker. Vittoria has remained connected with CFA through HERSTORY, a lecture series aimed at fostering women's achievements and design. 
Brian Zitin, a 2017 CAS graduate, and Will Denslow, a 2017 graduate of the Questrom School of Business, were recognized in the enterprise technology category for their start up Reggora, a software made for mortgage lenders and real estate appraisers. According to their Forbes profile, Zitin and Denslow began working together during their senior year at BU.
Now, Zitin and Denslow participate in entrepreneurial programs through [email protected] and BU Buzz Lab, Riley wrote.  
Jesse Reinherz, 2012 CAS graduate and current stock-focused trader at Millennium Management, and Daniella Pierson, a 2015 graduate of the College of General Studies and 2017 QST graduate who founded the women-centric platform Newsette, were among the alumni who appeared on the list. 
Also included were Alexandra Harbour, a 2016 CAS graduate who now leads portfolio diligence and post-investment support at Powerhouse Ventures, and Karen Fishman, a 2012 graduate of CAS a senior economist at Goldman Sachs.
Morgan Clark, a sophomore in the College of Communication, said she is not surprised by the success of these former BU students. 
"It doesn't surprise me that these students are doing incredible things," Clark said. "I feel like this school really focuses on making sure that you make that transition from school into your career."
Jules Bulafka, a sophomore in CAS, said she found the amount of BU alumni on the Forbes list reassuring as an undergraduate student.
"I think it's really awesome that we have alumni out there doing incredible things, especially in the fields they studied while they were at BU, that's really reassuring to see as an undergraduate," Bulfka said. "Your higher education is a big investment to make, so knowing that lots of our alumni are getting that return on what they invested in going to college here [is reassuring]." 
Kajsa Kedefors, a freshman in CGS, said she feels inspired and proud to go to a university whose alumni are making impactful contributions to their field.
"I think it's really noteable," Kedefors said, "and I just feel proud to be at this university and that we have a tangible statistic about alumni from our school. It puts into perspective what we are able to do."