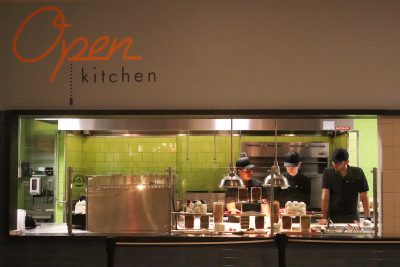 Open Kitchen opened at the George Sherman Union Feb. 10 as a part of a larger renovation of the building's Union Court food service area.
Open Kitchen will accept dining points, convenience points, credit cards, cash and will soon offer mobile ordering as the GSU works to incorporate the use of dining and convenience points with the food ordering service GrubHub. 
Colin Riley, a spokesperson for Boston University, said the goal of Open Kitchen is to provide a wide array of options for students on a rotating basis. 
"The new venue, Open Kitchen, will host rotating concepts and visiting chefs," Riley said.
The first menu for Open Kitchen will include "Flavors of the Mediterranean," according to the GSU's website. Items such as kabsa spiced chicken, salmon, or falafel in either a pita sandwich or rice bowl will be served.
Riley said that the Union Food Court makes periodic changes to their offerings in order to meet the demands of students
"In the food court, over the years, there's been a regular transition of the concepts," Riley said. "And there's very good information that Dining Services has on what students are looking for and the type of things they like. So they continually try to maintain not only the quality but the offerings there to meet what students are interested in."
James Boushka, director of marketing for BU Dining Services, wrote in an email that Open Kitchen is a collaborative effort that came from research the Riley mentioned. 
"Menus are created by the executive culinary team of BU Dining and inspired by customer demand. New menus are sampled by a team of students, staff and faculty, and BU Dining associates," Boushka wrote. "Feedback is collected regarding taste, texture, and serving style. Recipes are then modified accordingly before making it to the menu."
Riley also said that Open Kitchen is part of the larger effort to make the GSU available to the students while simultaneously improving the building and systems within it.
"The whole goal is to address [the] slow speed of service, provide mobile ordering, convenience, less lines, focus on authentic flavors and improved aesthetic and the entire space for everyone," Riley said.
Boushka wrote many different people were involved in the creation of Open Kitchen's concept creation and execution.
"The BU Dining engaged with local restaurateurs and chefs in pursuit of bringing more diverse experience in the future," Boushka wrote. "The Open Kitchen concept is a collaborative effort between many campus departments including Auxiliary Services and Student Life."
In addition to the opening of the new venue, there will also be an increase in the selection of grab and go items at City Convenience to offset the inconveniences students may face as construction continues. 
When construction finishes in mid-August, there will be a total of nine restaurants in Union Court. 
Carrie Chal, a sophomore in the College of Arts and Sciences, said she is excited about the rotating menu because it will solve the problem she sees with monotony in the GSU's current food offerings. 
"The dining hall seems to have the same food over and over again," Chal said. "So it would be really nice to have different food once in a while, especially at the GSU where a lot of people go."
Maya Jones, a sophomore in the College of Communication, said while the new venue looks nice, she's not particularly interested in the current menu and looks forward to seeing what they have on future menus.
"Personally, I was not interested in the menu," Jones said. "I looked at it, and I was like, I don't want any of this. But maybe because it's the first day it'll get better."
Kaileen Germain, a sophomore in the College of General Studies, said she believes it a good idea to have more diversity in the menu.
"I think it's never a bad thing to find new ways to integrate different cultures through cuisine," Germain said. "I feel like that's like, at least the bare minimum we can do."
Germain also said she thinks the menu should give visibility to cultures that aren't well-represented elsewhere on campus.
"I'd love to see more African cuisine. I feel like that's not necessarily represented properly," Germain said. "So that was something that I would like to see implemented."