Dozens of science and art enthusiasts cheered, gasped and laughed as they saw the boundaries between art and science cross in innovative ways during an interactive neuroscience experience on Friday.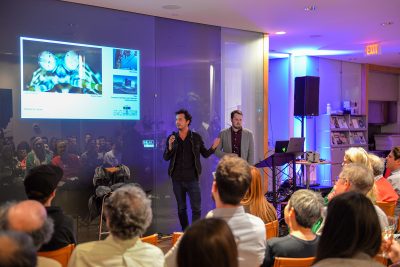 Four art and science professionals taught a high-spirited audience about the concepts of sensation, perception and music at swissnex Boston's "LASER Boston — Sensory Overload" event in Cambridge.
Julia Hoel, director of SciArt Initiative and a professional artist, said the purpose of the LASER event series is to bring together experts from across disciplinary boundaries and find a common ground.
"We bring researchers and artists to talk about the themes from their own point of view as a means to illuminate the common ground that art and science have," Hoel said. "Here at LASER, everyone in this room is doing something different."
Swissnex is a global network that fosters greater connections between the United States and Switzerland by collaborating with higher education and research institutions, innovation-driven startups and nonprofits, according to their website.
Speaker Psyche Loui, assistant professor of creativity and creative practice at Northeastern University, said she believes combining music and science can enhance the music we create and listen to.
"Most people don't think of music composition as a science," Loui said in an interview. "But if we know enough about how the brain works and we tailor music towards that, I think we can make music that's more powerful and an even more positive force."
Multiple speakers at the event discussed the brain condition called synesthesia, which Loui defined as a "fusion of the senses."
Coming from "hedonistic associations," Loui said senses can become intertwined and cause one to get chills while listening to music or consider a song more salty or more sweet.
"One of the theories behind why synesthesia exists is that we ascribe emotions to the senses," Loui said, "and we use those emotions to bind the different kinds of perceptions."
Brodi Elwood, a researcher in the nuclear science department at the Massachusetts Institute of Technology, and Thomas Sanchez Lengeling, a scientist and artist at the MIT Media Lab, presented a talk entitled "Neoperceptions."
The two described synesthesia as "the mixing of sensory or cognitive modalities" and said some people with synesthesia can see music notes as colors or can taste words, citing Billy Joel as one famous synesthete.
"The idea of synesthesia fit in well with our idea of augmented perception," Elwood said. "Synesthesia already augmented humans who have this different type of vision than the rest of us."
The pair described their research in synesthesia, with their main test subject being synesthete and musician, Mary Bichner. Through their research, they were able to design fiber optic garments that reflected the color Bichner saw depending on the note played.
"[The wearable technologies] light up depending on the musical note that's being played associated to [Bichner's] synesthesia," Sanchez Lengeling said. "We built [the technology] from scratch in the lab."
In the "Music, Time, Place and Space" portion of the event, Marcel Zaes, an artist, performer, composer and artistic researcher, performed a rhythmic piece comprised of a series of mechanical pulsations. Zaes described it as a "sparring" between a chaotic and regular rhythm.
In his talk, Zaes described what he called the "human and machine coexistence," bands with both real musicians and drum machines. It is notable, Zaes said, when the musicians can stay together, matching the beat of the drum machine.
"There seems to be value when all players in a band or in a group or in orchestra perform perfectly in time, in sync with each other as well as with the… drum machine," Zaes said at the event. "And yet, there is value to each player or machine still maintaining their individuality."
Jaqueline Bateman, a graduate student at Simmons University and Jamaica Plain resident, said she enjoyed the lectures as a violinist and a non-scientist.
"I feel I learned a lot about the brain," Bateman said. "It's great because I'm not in a science field and it's completely out of the scope of what I know."