This semester, WTBU Radio partnered with the Minority Connection Initiative to create a program for their Friday morning airings of BU in the Morning. Five co-hosts run the segment from 10 a.m. to noon each week, where they play music, discuss current events related to diversity and the inclusion of minority students on Boston University's campus.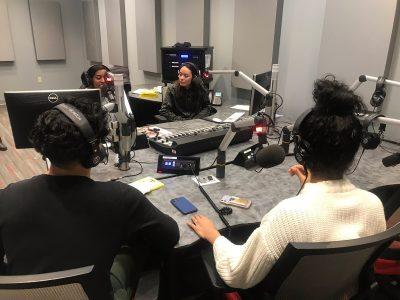 Nyema Wilson, a junior in the College of Communication, is one of the segment's hosts and the vice president of MCI. She said the decision to go on air is part of their larger mission of helping minority students feel more comfortable and connected on campus. 
"We didn't really have a space to just have informal conversations about just current events or just everyday cultural experiences of being a minority student," Wilson said. "So I thought that harnessing the airwaves would be a phenomenal opportunity to do so, and to connect with people not only in the BU community, but also past the BU community."
This is the first year MCI has been recognized by the Student Activity Office, though they have been operating informally since 2016. The group was founded on-campus by Kevin Smith, who graduated from the College of Engineering in 2017.
Wilson hosts the show alongside Kendall Castaneda, a junior in the College of Arts and Sciences and president of MCI, Sofia Colombo-Abdullah, a junior in CAS, Shadae Leslie, a senior in COM, and Karmynn Lustria, a freshman in COM.
Wilson said each show is structured similarly, with the first half of the show including about 30 minutes of music and 30 minutes of discussing current events, while the second half features another 30 minutes of more music and 30 minutes of discussion about a specific topic regarding the experience of minority students.
As for how music is chosen, Wilson said the hosts take into account what they've been listening to, what music relates to their topics of discussion and also what their guests prefer. In sum, Wilson said the music varies often.
"Some of them are old and some of them are newer songs. It's just music that honestly we love listening to," Wilson said. "And if we have a guest in the studio, then we plan to play a top 10 list of their current favorite jams at the moment, too." 
Wilson said that while not all the music played will relate directly to the topics discussed on that particular show, she and her co-hosts make an effort to keep the music choices relevant to the topic of diversity and inclusion.
"One of our first shows, we played some music by black artists to help kick-off Black History Month," Wilson said. "We played Beyonce's new edition of Before I Let Go, which is a remix from the original Frankie Beverly and Maze song, which I think a lot of people hold near and dear to their heart."
Wilson pitched the idea for the show to Steven Gelman, programming director for WTBU and a sophomore in COM, last semester. Gelman wrote in an email that the pitch was quickly accepted, and that he thought it was important for students to hear what the group had to say.
"When [Wilson] reached out, I was completely on board because she had a clear vision for what MCI at BUITM could be," Gelman wrote. "I thought the idea of creating a program where students could have conversations about the issues impacting minority groups, while creating a platform for diverse musicians, artists and creatives, was so important, and so I did what I could to make that a reality."
Gelman also wrote that he is excited to see what MCI's segment on BUITM will do for student musicians at BU.
"Music and culture are so intertwined, and so I'm looking forward to see the diverse talent MCI at BUITM chooses to highlight," Gelman wrote. "We have a great in-studio space at WTBU where local and touring musicians regularly visit and perform, and we plan to use that space during MCI at BUITM to feature local artists from diverse backgrounds."
Hannah Harn, a senior in COM and the interim director for BUITM, said she thinks MCI's segment is important in making sure everyone has a platform to share their experiences.
"Whether it's visual art or music, it's incredibly important how we tell our stories and how we communicate our experiences," Harn said. "Having a show like MCI and working with them is a really important part of making sure that people in the BU community and the immediate Boston community feel like they have a platform to tell those stories."
Amelia Thyen, a junior in the Sargent College of Health and Rehabilitation Sciences, said she thinks there is a need for this segment because BU's efforts to be inclusive to minority students don't always reach as large of an audience as they could.
"I think there definitely is a need for something like that on campus," Thyen said. "I think the Howard Thurman Center does a good job with inclusivity and including everyone on campus."
Elisa Ferriter, a freshman in CAS, said she thinks the show will be beneficial to all minority students.
"I think it's a good outlet, especially if the students talking on it are students of color or particularly [part of] minority groups," Ferriter said. "There are a lot of things to talk about, so I feel like having this segment isn't doing anyone any harm, and by anyone I mean other minority students."
Afshan Mian, a sophomore in the College of General Studies, suggested that the hosts could address specific issues she sees coming up, such as implicit biases.
"There are a lot of implicit biases that people have that they don't even know they have, like they think things come off in different ways," Mian said. "So I think that could be something that's important that they could discuss."
NOTE: Spring 2020 Editor-in-Chief Victoria Bond hosts a radio show and podcast for WTBU. She was not involved in the reporting or editing of this story.