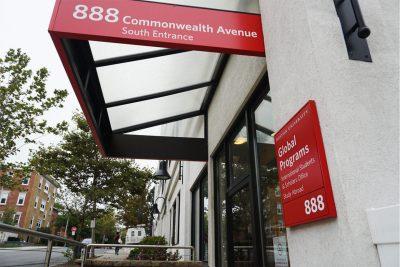 Boston University suspended its Shanghai study abroad program at Fudan University due to the coronavirus outbreak in January. As of recently, however, there has been an increase in the number of cases of coronavirus in Italy, where BU students are studying abroad.
As of Wednesday afternoon Italy has 401 confirmed cases of coronavirus and 12 people have died as a result, according to The New York Times. While there are confirmed cases in other countries where students are studying, such as Australia, France and Germany, the U.S. Department of State issued a warning to 'exercise increased caution' when traveling to Italy.
Colin Riley, a BU spokesperson, wrote in an email that the university is closely monitoring the situation of the students studying abroad in Italy, and that the health and safety of its students is the university's highest priority.
Riley said that presently, the university's students and staff in Italy are well and that all classes have been suspended until March 2 due to the spike in reported cases of coronavirus in Italy. 
"We are following national and local directives, and are communicating regularly with our students and staff," Riley said. "We are also reinforcing the appropriate hygiene practices and are monitoring the situation daily." 
Riley said that there has been no immediate indication of panic among the students in Italy and that they are in good spirits. He also said that the university does not believe the temporary cancellation of classes is an issue, as the students' health must be prioritized during this worldwide epidemic. 
"This is certainly something much larger than an individual program, or school, or country," Riley said. "This is a global situation."
At this point, BU is closely monitoring the situation and does not have any plans of cancelling the program or sending students home.
Andrew Reilly, a sophomore in the College of Arts and Sciences who is currently studying abroad in Padua, Italy, wrote in an email that the BU center in Padua has asked students not to leave Italy, but has permitted them to travel within the country. 
Reilly also wrote that students have been trying to protect themselves by buying hand sanitizer and medical masks, but that more items are sold out almost everywhere in Padua. He wrote that despite this, he and many other students would not want to return home.
"I know that all of us here would be devastated if we were forced home. There are a lot of what-ifs attached to a potential cancellation of the program: would we receive monetary compensation, would our classes continue virtually, and, for many of us, will we even be able to graduate on time?" Reilly wrote.  "For now, we're trying to live in the moment and do as the Italians are doing: enjoying our aperitivi and one another's company while the free time lasts." 
Soumya Nimmu, a sophomore in the Questrom School of Business, said that cancelling a study abroad program mid-semester will cause disruption and inconvenience for students. 
"Well, I think students take a lot of care into planning out their lives," Nimmu said. "It would really probably throw a wrench in people's plans to have to come back."
Sophia Mylonakis, a freshman in the Sargent College of Health and Rehabilitation Sciences, said that she does not believe the students from Italy should come back, given the risk of being exposed to the virus while travelling.
"I don't know if they should go back because in the travelling they will be exposed to the virus,"  Mylonakis said. "So I don't know if that's the solution but, for sure they should cancel the classes and take some measurements like following the government's instructions."
Farah Alam, a freshman in CAS, said that if she was studying abroad and was asked to come back, she would be upset as she would have already settled in well by this point in the semester.
"I feel like there could have been alternative ways to kind of fix the issue," Alam said. "One of them is not pulling out students, because this is an experience that I can't gain anywhere, right, like the once in a lifetime kind of experience. So I kind of wouldn't want that."