Communications companies have grown more diverse in recent years, and future projections echo that trend — by 2024, the U.S. Bureau of Labor estimates the country's workforce will be more diverse in almost every demographic category.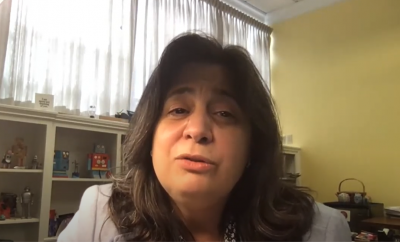 In light of these changes, Boston University Alumni and Friends hosted a webinar Wednesday entitled, "After Hiring: Creating a Truly Inclusive Culture," where a panel discussed the steps needed to create a genuinely welcoming and inclusive environment in a communications field.
The panel included a variety of College of Communication alumni, as well as a current COM student. One of the speakers, Michelle Sullivan, associate dean of Diversity, Equity and Inclusion at COM, discussed the importance of these conversations at this time in history.
"I think it is important to have conversations like this," Sullivan said in an interview. "I think there has been so much toxicity and so much negativity in culture recently that people have shied away from having open and honest conversations."
Another panelist, 1981 COM graduate Anthony Harrison, is the senior director of corporate communications at Anaplan, which aids businesses in decision-making processes. In the panel, he spoke about what he believes is the best tactic to improve the inclusivity at a company.
"You have to have those uncomfortable conversations with your employees, your peers, your co-workers," Harrison said. "You have to be vulnerable, we all have to be vulnerable in terms of acknowledging what we don't know and what we want to learn."
Nyema Wilson, panelist and senior in COM, wrote in an email she was inspired by Sullivan's insight that to effectively communicate the importance of inclusion, employers should pair data with human stories.
"I believe that every individual comes with their own set of biases that influences their perception of the world," Wilson wrote. "And as communicators it's our job to tweak and turn the dial to figure out what's the best way to communicate what needs to be said."
COM Dean Mariette DiChristina, head organizer of the event, said in an interview that these sorts of discussions allow the University to have conversations about inclusivity and their role in it.
DiChristina said she hopes opportunities like these will help change the narrative and strengthen the BU community's efforts toward and understanding of diversity.
"I hope we will learn to be a better community," DiChrstina said. "The only way we get there is having open, honest conversations where we listen carefully and engage after listening. It's important, really important, to listen."
While improvements must still be made, DiChristina said, she takes pride in BU's history of educating people from all backgrounds and demographics: the University was among the first higher education institutions to offer degrees to women and people of color.
"Boston University has an amazing heritage as an inclusive place, back when it was started, everybody was welcome," DiChristina said. "I am so excited to see us embracing that heritage, and really looking forward to the next steps."
Similarly, Sullivan said after the panel that she cherishes her degree from an institution with a strong reputation for inclusivity throughout its history. She said she looks forward to seeing Ibram X. Kendi's progress with BU's new Center for Antiracist Research.
"I brag every day pretty much about being a BU alum, a COM alum," Sullivan said. "I talk about [Martin Luther King Jr.'s] time studying at BU and the fact that the first female M.D. in America was trained at BU, and I think in the not-so-distant future, I'll be adding the work that Dr. Kendi is going to do to my list."
During the panel, Sullivan said she is optimistic about a future where discussions such as these are no longer as necessary. She said, however, that they are likely to remain beneficial regardless.
"I think we will hopefully not always need a conversation like this, but I think we'll constantly have things that we will be able to do a better job of that we'll want to talk about," Sullivan said. "That seems like a constant in American culture."