Boston University students returned to in-person classes last week for the Fall after a year and a half of online classes. While seniors and juniors return to a similar pre-pandemic campus, freshmen are experiencing a transition to traditional in-person classes.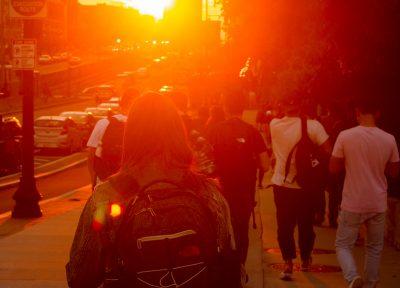 However, many sophomores are arriving at an unfamiliar campus despite already being a part of the BU community for almost a year. According to the BU Office of the President's letter in the Fall of 2020, when students had the option to stay home and learn remotely, housing was only at 67 percent capacity last year, while their usual estimate is at 90 percent.
Lin Khant Ko, a sophomore at the College of Arts and Sciences, said sophomores had missed out on social parts of college life, such as making friends while being online last year. Ko, who attended classes through fully remote learning last Spring, said "there were no events for us online" that he knew of.
"It was just classes," Ko said.
Learn from Anywhere, BU's hybrid scheduling plan that was used all of last year, allowed students to attend all classes from their home, or live on or off-campus, and attend remotely and in person. For many international students, LfA allowed students to stay in their home countries when it may have been impossible to travel to and from Boston.
After attending classes through BU's LfA remote option while in Myanmar, Mya Ingyin Aung, a sophomore in the College of Communication, said one difficulty she faced during the transition to in-person classes was figuring out where classrooms and buildings were located.
"I had to figure a lot of things out by myself, even something as basic as how the dining hall and laundry [work]," Aung said. "[And] just physically going to classes, because the campus is really big."
Grace You, a sophomore in COM, said although some events were held online, the remote aspect of the events made it difficult to meet new people. You, an international student from Myanmar, had attended classes online from her home country since the beginning of her freshman year.
"I feel like I'm at a disadvantage because when you're in online school back in your home country, you can't really join that many things because the majority of it is the middle of the night," You said. "As soon as people find out that you're actually not attending school, they don't really want to get to know you."
She adds that socializing may seem daunting to sophomores who were unable to come onto campus last year as students who have been on campus have already begun to make friends.
"For sophomores, half of them already made friend groups and have a feeling and experience of what college life is," You said. "But for the other half that couldn't come on campus and had to do online school somewhere else, we just feel left out."
Tayza Shwe, a sophomore in CAS, said that sophomores who were studying remotely had to miss out on more in-person opportunities to socialize. He attended classes through LfA during the second semester of his freshman year.
"If you're learning from afar, obviously it's hard to … socialize," Shwe said. "I socialize mostly through clubs and the Zoom meetings, there are people I met there but when I came back here I guess [I] had to start making new friends, [I] missed out on a semester of making friends."
On Sept. 1, the associate provost and dean of students Kenneth Elmore sent an email to the Class of 2024 announcing that BU was planning to hold events on Sept. 17 through 19 specifically for sophomores, who experienced their freshman year at least partially online.
The email included a link to a video message of Elmore addressing the Class of 2024. In the video, he emphasized events coming up exclusively for their grade.
"We made you [sophomores] come in, move in, get tested, stay in your room, get tested … That was a tough time," Elmore said. "We're going to bring you back with the love that you deserve."
You said although holding events in the future for sophomores is helpful, she felt as if the event planning was rushed.
"I thought it was kind of comical because it [the email] didn't even say 'oh we have planned' it said we are planning," You said. "So they haven't even thought of something to do for sophomores and felt like it was a last-minute ordeal for us."
Emilie Xiao, a sophomore at Questrom School of Business who studied remotely last year, said the prospect of events for the Class of 2024 was good and would help sophomores better understand the campus.
"I feel like they're treating us kind of like freshmen that way," Xiao said, "and it's helpful for us if we go to those events because we get to know the campus more."