Classes may have not been in session, but the Boston University BUild Lab was bustling with activity last summer.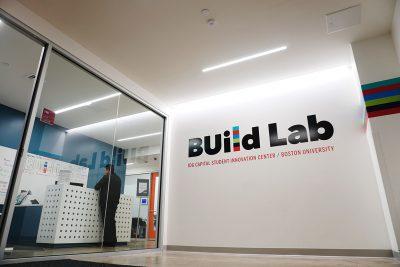 The Summer Accelerator is a 10-week program that supports BU students and recent alumni in their venture creation efforts as they bring their ideas to fruition. After applying in the Spring, the selected teams participate in targeted workshops, networking and a final showcase event in addition to being awarded a $10,000 stipend.
The Summer Accelerator's extensive curriculum spans many aspects of venture creation, including customer discovery, financing and marketing. This training is complemented by coaches who mentor teams one-on-one to help them apply what they have learned to their ventures. These mentors include BUild Lab staff, professors and even alumni.
The teams enter the accelerator at various stages and develop specific aspects of their venture through programming and networking.
Victoria Kinnealey, who will graduate from Questrom School of Business's MBA program this December, continued to develop Viinko in this summer's accelerator program. Viinko is an education-tech platform that helps middle and high schoolers develop time management and organizational skills through an interactive, digital planner.
In an interview, Kinnealey said that throughout the program they conducted extensive research, started implementing sales strategies and connected with other ed-tech founders.
"The summer accelerator brings it all to the next level," Kinnealey said. "It's intensive and it's a lot, and you're meeting a lot of people for a lot of time throughout the 10 weeks, but it also forces you to be a little bit more intensive about your startup."
Ken Krebs, who graduated from BU with a master's in computer engineering this year, developed Yogger, a movement analysis software that can be used in the physical therapy field.
"Going into the accelerator, we knew we had really good technology, and that it could be applied in this field. But we didn't really have a great product per se, initially … After going through the whole process [in] the accelerator, I feel like we have a much stronger business perspective."
Two other teams participated in the Summer Accelerator and created the RefEd Initiative and One Swipe Bets. Abhi Valibarthi, who graduated from the College of Arts and Science in 2021, and Albert Jimenez and Yasin Morais, both 2018 graduates of Frederick S. Pardee School of Global Studies, were the venture team that created RefEd Initiative, which provides education for refugee children. Ben Oppenheimer, who graduated with his masters in media ventures from the College of Communication in 2020, created OSB, a mobile app for information on sports and esports.
While comprehensive, the Summer Accelerator is not the end of the teams' entrepreneurial journeys.
"We probably went in with like 50 questions on 10 different topic areas, and I feel like we whittled down some of those questions and got some clarification, which was awesome, and then came up with 20 new questions in each area," Kinnealey said, "but it enabled us to sort of move to the next phase of thinking."
This year teams from all over the world had the opportunity to participate due to this year's hybrid format.
The Summer Accelerator is among the many programs the BUild Lab offers to support students' entrepreneurial endeavors. Kinnealey also participated through the BUild Lab's Innovation Pathway.
"If you're just curious to learn more or talk to people who are in this space, going to the BUild Lab and getting on the pathway could be great," she said. "I think once you're a step beyond that, once you actually have a legitimate idea that you're trying to pursue or a product that you've built or even like a first customer, I think both programs are awesome."
Krebs urges student entrepreneurs to focus on the impact of their work.
"My word of advice would be like don't be so focused on the what as to the how," he said. "Just help somebody figure out a way to solve a problem for somebody, and it doesn't have to be super fancy or sophisticated."