More than 18 professionals from companies in Boston gathered for the Women Mean Business conference at the Questrom School of Business this Saturday.
The conference, hosted by herNetwork, BU's Women in Business Club, is in its eighth year. The event includes panels and networking opportunities for its attendees, aiming to educate BU students on the "woman and non-binary experience" in business, Nethmi Edirisinghe, a senior in Questrom and herNetwork's director of finance, said.
"It's a one-day event that strives to empower, educate and connect our undergraduate community to female professionals," Kayla Wu, a senior in Questrom and herNetwork's President, said.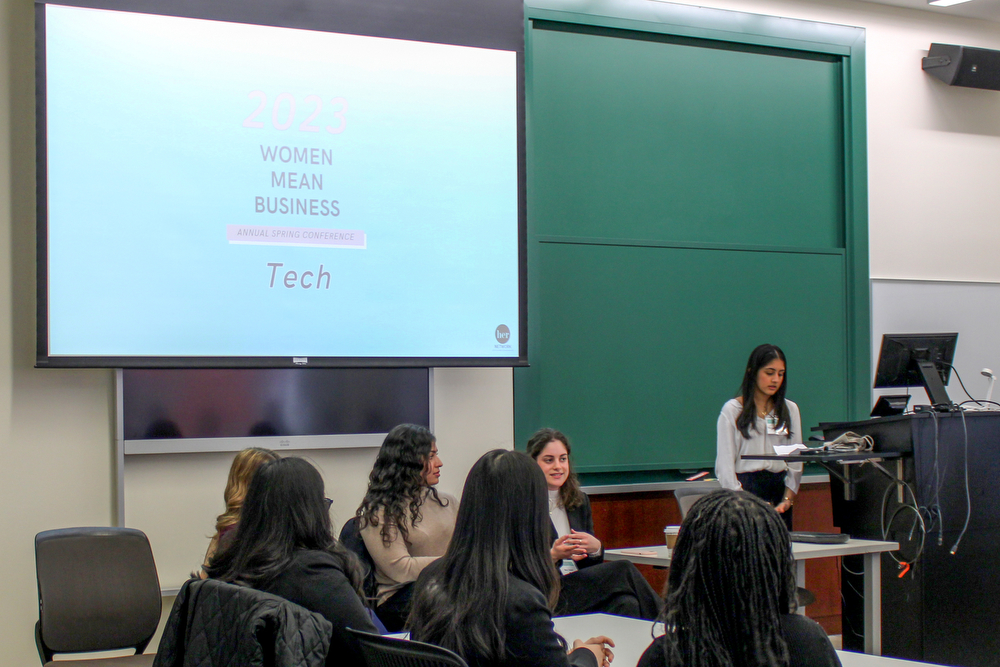 The event featured a keynote address in the morning and several breakout panel sessions in the afternoon with panelists from different fields.
Noelle Sanderson, a junior in Questrom and herNetwork's director of conference, said she contacted potential panelists and organized many of the event's logistics. Sanderson said this is the current E-board's first in-person conference.
"I wanted to make sure that we got a wide variety of fields represented," she said.
This year's panels were divided according to industry, which included fashion and beauty, politics and law, journalism, marketing, technology and more.
Edirisinghe said many attendees come to the event for the networking opportunities.
"[The panelists] are always very open, very excited to be a part of this conference," Edirisinghe said. "They're always willing to provide advice, tips and just be a connection for our attendees."
This year's conference featured a BU alum panel as part of its third networking session. Prior to the event, Wu said she hoped attendees would be able to develop meaningful relationships with alum "who were also in their shoes."
herNetwork, Sanderson said, aims to address that many business fields are "male-dominated." The conference itself aligns with the club's goal in that it emphasizes educating attendees about a wide variety of fields "through the lens of womanhood."
Last year's conference featured Spotify and the Red Sox, among others, and this year's hosted Birkenstock, Deloitte, Sephora, IBM and more.
The conference was not exclusive to women — any gender or major could attend. Attendees can gain anything from a renewed sense of motivation to a LinkedIn connection — whether it be with a panelist or a fellow student.
"Our mission is to educate, empower and connect our members to opportunities, whether that be workshops, panels, networking events and ultimately have them connected with female professionals who are making tremendous strides in their career," Wu said.
Edirisinghe said when she attended last year's conference, she heard one of the panelists from the Red Sox talking about her experience with the company, and it "opened [her] mind."
"To a lot of these people, it's more than the job," Edirisinghe said. "They come here because they love it, and then that was further cemented when I went to the networking session, and I spoke to them one-on-one."