During his time as a Boston University student, Rodrigo Mendoza said although he "didn't have the language" to describe it, he sometimes felt out of place and found himself frequently code switching.
"Now after I graduated, and I found my community elsewhere, I was able to say 'Ok well, [it was] because I wasn't seeing a lot of myself around me,'" Mendoza said. "I really want to put on a new event for people who might feel the same way."
And so, after months of planning, Charcoal Magazine and BU Student Activities collaborated on Fragmentos, an event to spotlight queer BIPOC students through portraits, storytelling and pop-up performances at the Howard Thurman Center on Thursday. The Fragmentos exhibit centered on photography and writing as mediums to communicate students' struggles, triumphs and the paths they took to embrace their identities.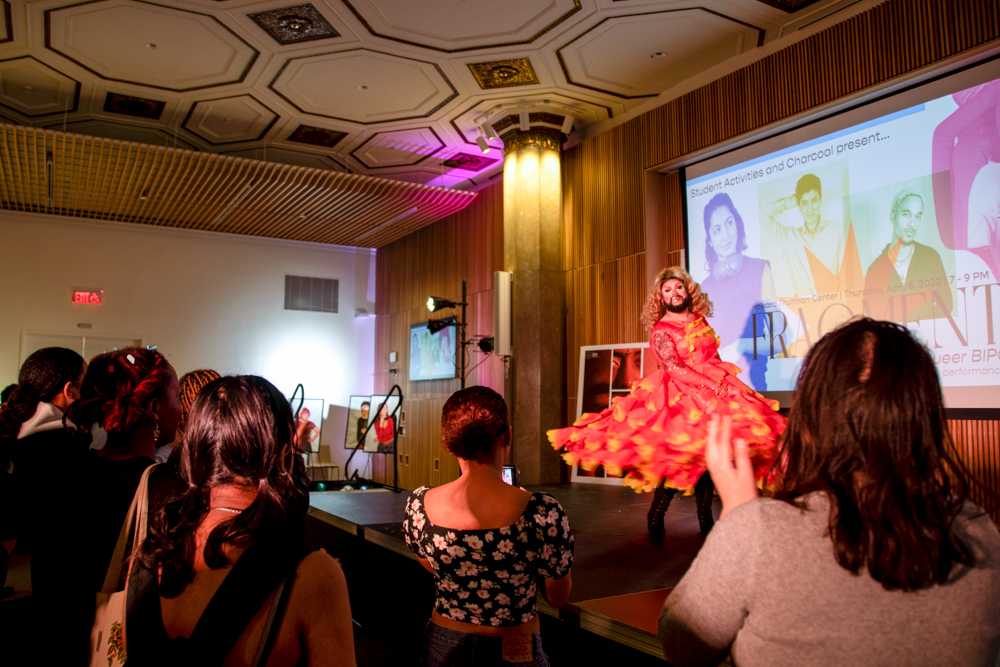 Mendoza, now the Student Services assistant director and main producer of Fragmentos, said it all started with a grant from BU Diversity and Inclusion to highlight the experiences and lives of LGBTQ+ students. From there, he reached out to Charcoal for guidance.
After the initial meetings with Charcoal, Mendoza put out an open call for students, organized the photography sessions, reached out to local drag artists and set up the space.
"I think I had a lot of resources and knowledge about BU departments…but [Charcoal] really came through with the pictures, which are really like the heart of the show," he said.
Anne Joseph, a sophomore in the College of Arts and Sciences and the director of operations for Charcoal, said that there was intention behind the placement of all the portrait clusters and the decorations in the space.
"It was very important that we give all of these stories the respect that they deserve," she said.
Grandee Rafael De Guzman, a sophomore in Wheelock College of Education and Human Development, said his high school lacked representation.
"There weren't that many queer people of color so I did feel very isolated," De Guzman said. "But as soon as I entered BU, I met so many different people from so many different backgrounds and different identities that it just made sense to me and it felt like I belonged."
De Guzman, who modeled for Fragmentos, said when he came to BU, he felt inspired by hearing the stories of other queer people of color.
"People should take up space, wherever they are," he said. "It's going to be hard to find a community where you can relate to people but as long as you remain authentic, remain true to yourself and embrace your identity, that is everything that you can need."
About halfway through the exhibition, there were moving performances from two local drag queens: Candace Persuasian and Just JP. Mendoza said he knew the performers through the community he forged after completing his undergrad at BU.
Will Chapman, a freshman in the College of Communication and another model highlighted in the exhibit, said he loved how the night came together.
"As a LGBTQ+ BIPOC individual, there aren't many opportunities that come my way to really show that part of my identity," Chapman said. "A lot of times, I feel like I suppress it or I just don't make it a big facet of my everyday life."
Chapman said the Fragmentos project provided the opportunity for him to take a moment to process his feelings about his identity, his journey, his struggles, the spaces he was in and his feelings of belonging in those spaces.
"I'm very blessed because BU has The Q and then Charcoal has a lot of BIPOC individuals that are also LGBTQIA," Chapman said. "So for me, I'm not super concerned about finding queer spaces, it's more so how do I feel within those spaces?"
Mendoza said he thought the event was a success.
"I really wanted to create a space where people could see themselves in each other," he said. "I really wanted to create a space where people feel like we are in community. These people might not be my best friends but they are community in that we share identities and we share triumphs and we share struggles."
Joseph said spaces like Charcoal and Fragmentos are especially needed due to the lack of University-facilitated communities or spaces for celebrating queer people of color.
"Just simply being here, that's the most powerful message," Joseph said. "Just being in this space and saying I am here, I exist, my story matters, I think is the best possible kind of uplifting that we could do for this community."
Although Chapman said he valued the exhibition and appreciated participating and being in the space, he mentioned that events like Fragmentos are only necessary because of the current societal climate of exclusion.
"One day, I want myself and other people in my community to be so normalized that we don't feel the need to highlight as much," Chapman said. "The fact that we feel the need to make ourselves known like this shows the state of the society right now where we feel like if we don't go to these events, are we ever going to have our voice heard and our identity validated?"