If you've ever walked down Commonwealth Avenue in the middle of the day, you may have seen Laura Shands, a sophomore in Boston University's College of General Studies, in a "really funny looking car" — a Mini Cooper with a giant Red Bull can on the back.
"It's kind of like an all-the-time job," Shands said. "You're always trying to find new opportunities for Red Bull to be involved with."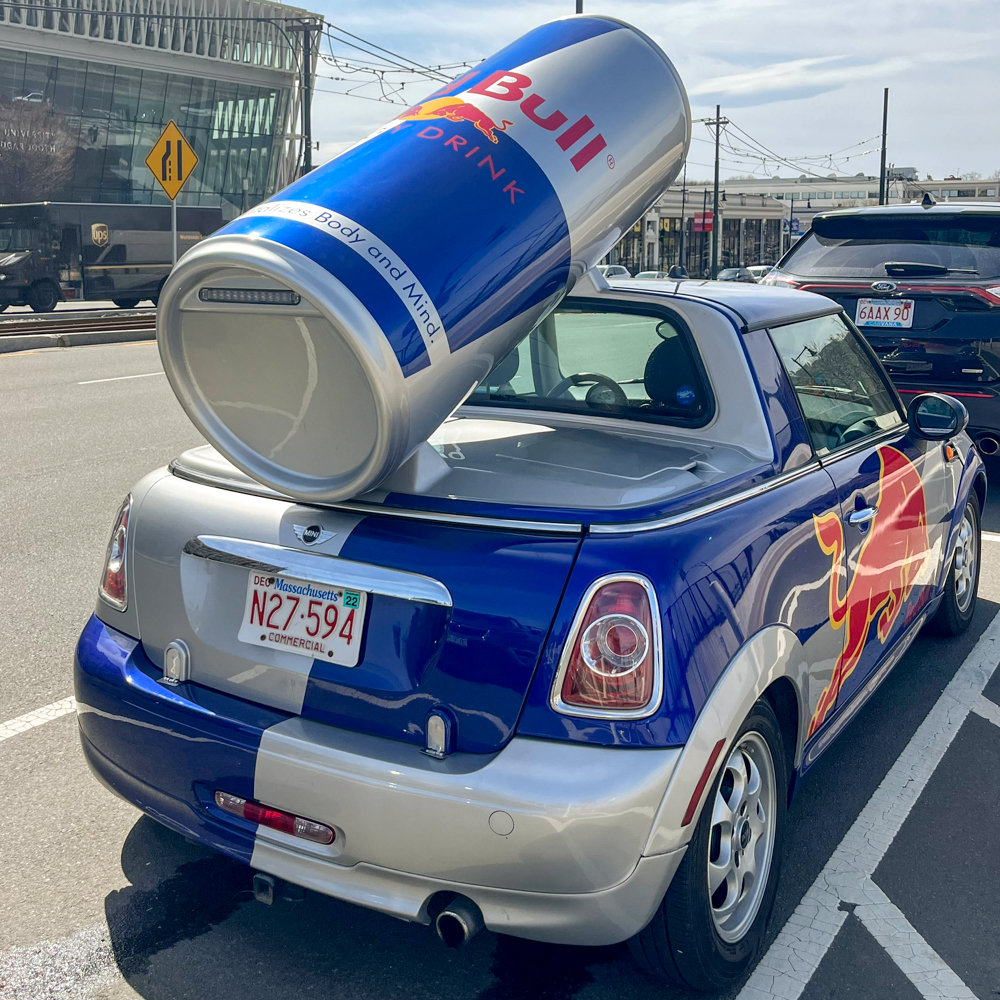 Shands is one of many student ambassadors for energy drink companies — such as Red Bull, Celsius and Rowdy Energy — tasked with promoting the brand's product to their peers and the public. The ambassadors hand out Red Bull cans at big events like Celtics Games or the Red Bull Cliff Diving, their biggest event of the year, as well as at local bars and college campuses.
Susan Jung Grant, a clinical associate professor of marketing in the Questrom School of Business, said companies look to college students to promote their products because they are still an "open market."
"For a company like Red Bull, the college students market is a really great potential target because college students are often working very hard, studying long hours well into the night and they need some kind of supplement like an energy drink," Grant said.
When handing out cans at BU — a process they call "missions" — Red Bull Student Marketeers tend to focus on the George Sherman Union, Questrom and other densely populated places. Behind every mission is an intention, Shands said.
"Since Red Bull is an energy drink, we like to think about all of the occasions that you would drink a Red Bull or an energy drink," Shands said. "So when we have those study missions, we go to the people who are going to be studying."
Red Bull has party and work missions, depending on what kind of consumer they want. Shands said this includes giving cases of the energy drink to fraternities who are planning large social events at their houses.
Red Bull's goal is to get as many people as possible to try the product, Shands said, with the hope they become regular customers of Red Bull or to have a pleasant interaction with the ambassador and, by extension, the brand.
"[Red Bull is] really big on direct contact with consumers," she said. "They want it to be a conversation that you're going to remember and a positive experience in hopes to bring you on as a customer for Red Bull."
Shands said she heard about the role through a high school friend who reached out and asked if she wanted to be a part of the Red Bull ambassador team because he thought she'd be a good fit. To be selected, Shands applied on Red Bull's website and went through multiple rounds of interviews before her current boss reached out to her.
Grant said energy drink companies also use college students to promote their products because of its cost-effectiveness — and because students have more credibility with other students. Particularly, Grant said, companies want to choose a student who is well-connected.
"You want to have a student ambassador who has a built in community, like a fraternity or sorority or an athlete who has a team and network," Grant said.
One such student is Ericka Correia, a freshman in the College of Communication. Correia said she thinks the fact that she is on the dance team contributed to her being chosen for a sponsorship with Rowdy energy.
"I'm constantly doing sports-like activities and athletic activities," Correia said. "I think they were looking for someone that is constantly involved in workouts and high energy activities that would require us to need more caffeine and have the ability to burn those calories."
Correia said she was initially selected for this sponsorship through Intern Queen, a program based in New York City that reaches out to college students that brands are looking to hire from, often at large universities like BU.
Intern Queen sent her a direct message on Instagram and once she responded to the message saying she was interested, they emailed her with the necessary information to apply.
Correia said she believes another part of the reason she was discovered by the company is that she has a public Instagram account and has previously done sponsorships through the Miss America organization and pageants.
"My job specifically was to highlight and show off [Rowdy Energy's] new Power Burn brand and line," she said. "It's a healthier alternative to certain other energy drinks. It helps you burn more calories than a typical energy drink."
As a part of her sponsorship, Correia was required to complete three "pulses." The first pulse was an Instagram post that showcased the energy drink and the second pulse was three Instagram stories, showing when she drinks the energy drink, such as when doing homework or when at dance practice.
Finally, her third pulse was filming a TikTok or Instagram Reel, for which she chose to do a day-in-my life video to showcase her consumption of the energy drink throughout the day.
During her sponsorship, Correia was paid through Intern Queen and the brand program, making about $16 an hour. The company accounts two hours to edit and post the content.
Although this sponsorship has ended for now, Correia said the company can reach back out to potentially launch another.
"If they decide they want to do another rebranding of it, if it doesn't get as much influence as they thought it would, or if they have come up with something new, they could contact us and we can be brought back into the brand program and we can do another sponsorship."