Ibram X. Kendi, director of Boston University's Center for Antiracist Research, responded to written questions from The Daily Free Press following mass layoffs and allegations of mismanagement of funds. The email interview has not been edited for style and has been published in full.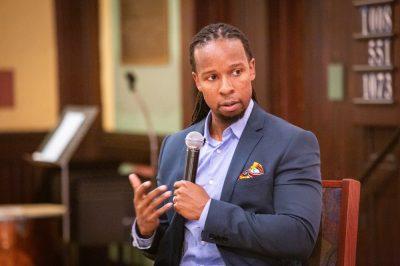 Do you believe the Center for Antiracist Research has accomplished the short-term goals set for the organization when it first opened? If so, please elaborate on the goals and how they were accomplished. If not, why?
In its infancy — just three years old — CAR has accomplished so much. We have successfully provided seed funding for 13 research and policy teams: these are multidisciplinary teams engaging in antiracist research projects. We have developed a number of relationships with community organizations and engaged in community-driven research projects, partnering with community organizations in the Boston area and around the United States. We have assembled faculty and graduate students affiliates from Boston University and colleges and universities across New England, providing community-building, collaboration and professional development opportunities for them.
Early in the pandemic, the Center partnered with the COVID Tracking Project on the COVID Racial Data Tracker, which emerged as a leading state-level tracker of racial disparity data for cases and deaths. We learned a lot about racial data collection and reporting from our work with the COVID Racial Data Tracker. We took that learning and produced a report that called for its standardization and a nation-wide system of racial data collection and reporting. Also, all reports, briefings and trackers will be archived on the website and will continue to be available.
The Center built an Antiracist Tech Initiative to examine why Black and Brown people are underrepresented at tech companies. This past year, ATI has submitted multiple papers for publication and shared research at invited talks and conferences.
The Center has organized two highly successful policy convenings: (1) an antibigotry convening with 35 scholars and advocates to consider fifteen categories of bigotry and develop a collective conception of bigotry and anti-bigotry; and (2) a convening of 29 experts to discuss problems with the existing U.S. racial and ethnic categories used for data collection and to suggest revisions as the federal standards may be revised for the first time in 25 years. Based on the convenings, we produced an anti-bigotry report and submitted a public comment earlier this year in response to the Office of Management and Budget's proposal for updating its race and ethnicity standards. It was our second public comment on racial data. The Center has also submitted 10 amicus briefs to courts on where we saw racism was a central issue but not a focus of the parties' briefs.
Through our Public Scholarship Shop, a number of BU faculty and CAR staff received training and assistance and published their research as op-eds for a public audience. CAR has partnered with the other units at BU to bring cohorts of BU educators together to develop or redesign courses that engage antiracist curricula and pedagogical strategies. The Center has organized a number of events, including two National Antiracist Book Festivals.
The Center launched The Emancipator, a reimagining of the first abolitionist newspaper, that brings the best of academic and journalism together to explore solutions to racial inequality. Barely a year old, The Emancipator has been nominated or won a number of awards, like the Telly Awards, the Webby Awards, Edward R. Murrow Awards, Online Journalism Awards and from the National Association of Black Journalists.
Several staff members said that in recent layoff meetings, you referred to the current CAR model as "not financially stable," yet in the Boston Globe you said the Center was not in financial distress. Can you elaborate on the decision to move towards a nine-month fellowship model and to what extent finances were related?
Some have falsely claimed that CAR was out of money; this is far from the truth. However, even with a $30 m[illion] endowment that can't be spent and other money in spendable reserves, the existing model could not be supported under new economic realities and slowing philanthropic giving. My decision to refocus CAR's work, including the shift to the fellowship model, was to support the mission of CAR for the long term.
To put a finer point on it, we likely only had about 1.5 years of life within our current structure and increasing expenses. If we waited to make changes, we'd not only be laying off even more people, but CAR could cease to exist. This was not a viable alternative.
Were you aware that CAR employees felt there was a toxic workplace environment?
High-growth startups are among the most challenging workplace environments, and the challenges are even greater during a pandemic. Some people shared with me that they struggled in this constantly changing environment, while others felt they excelled.
There were challenging moments — as it only takes one person to create a toxic situation for a workplace. We worked hard to eliminate these situations and usher toxic people out of the Center. It isn't surprising to me that some of them have been the loudest in their attacks on CAR after the layoffs.
In a statement published on Instagram you mentioned that the Center "made missteps" and that you have been learning from them. What were those missteps and how do you plan to resolve and/or avoid them going forward?
The new structure resolves many of those missteps. We now have a long-term financial plan and a structure that does not require faculty to serve in an administrative capacity. The new structure offers financial sustainability, along with the ability to support BU faculty fellows as they pursue their research agenda and BU student fellows as they pursue their career interests. BU student fellows will be paired up with, mentored by and provide research assistance to leading antiracist intellectuals and creators in their fields.
What are your official and non-official responsibilities as director of CAR? Do you believe you have executed them to the best of your abilities? What would you change if you had a chance to do it over again?
As CAR's director, a large part of my job is to ensure the organization's long-term success. That means making the tough, and sometimes unpopular, decisions to allow CAR to fulfill its urgent and crucial work. I believe that my talented and committed team and I have executed our responsibilities to the best of our abilities in very challenging times, especially during a powerful reactionary movement that is striving to destroy communities of people working to abolish racism.
How would you explain the significant turnover rate at the Center?
Even in typical times (i.e., not during a pandemic), high-growth startups have the highest turnover rates. But we launched CAR in the middle of the pandemic, when organizations all over the world faced an unprecedented workforce turnover. In this way, we were not alone in facing these challenges.
When explaining turnover rates of white-led organizations, people inside and outside the organization usually point to larger structural factors. When explaining turnover rates of Black-led organizations, people inside and outside the organization usually point to bad leadership.
Do you feel personally responsible for the success of CAR? Do you think it is fair that others hold you responsible for the Center?
As a leader of an organization, I am responsible for ensuring CAR can deliver on its mission. There are factors, like economic environments, that I cannot control. But, I can make decisions that offset those factors.
Has your celebrity made it difficult to run the Center effectively? Do you wish the Center and/or yourself were less front facing?
This is a tricky question. I know that my achievements outside of CAR have brought needed attention to our work and allowed us to raise much-needed funding. But this idea of "celebrity" brings a heightened level of scrutiny as well as unfair, unfounded attacks.
Do you think the scrutiny the Center has been subjected to is fair?
Not everyone wants to build an antiracist society; that is clear. I have been disappointed in journalists who report criticisms of a Black leader without asking for evidence to substantiate those allegations. Racist ideas about a corrupt Black leader running a dysfunctional or toxic organization are so ingrained that reporters don't feel the need for evidence.
Do you feel the Center successfully connected with the Boston University community?
We have truly been a university-wide Center. We have had faculty leaders from LAW, SPH, CAS, MED, BIZ, SSW, ED and we also worked closely with COM and CDS. We are also proud that we built one of the largest and most diverse student internship programs of any center at the University.
What do you ask of the public during this transition period for the Center?
Remember that the Center is only three years old. Give us the time to make mistakes and grow as you do all other young organizations. Remove the microscope. And, when you are considering these vague and mean-spirited allegations about CAR and me, remember there are many people who want to destroy antiracist organizations or have personal agendas. We have had many people reach out and offer their support during this time and we are heartened by that.
You said in your interview with the Globe that you had to make the difficult decision to "take the long view" in your direction of the Center going forward. How is this leadership method different from the approach you've taken thus far?
As noted previously, I took the long view in my decision to restructure the Center and shrink its operating budget to ensure the progressive and essential work of CAR continues.