When Abby Smith was accepted into Boston University, her first question to her parents was, "How are we going to afford this?" 
Now a sophomore in the College of Communication, much of Smith's life has been "dedicated towards trying to figure out how to afford college," and during her application process, financial aid was a big topic of discussion in her house, she said. 
"It was kind of like this balance between 'I'm pretty sure I can get into a decently high-ranked institution. Not sure if I can pay for said high-ranked institution,'" Smith said. 
President Joe Biden has made student loan forgiveness a focal point of his administration — forgiving 3.6 million Americans of $127 billion in student loan debt thus far.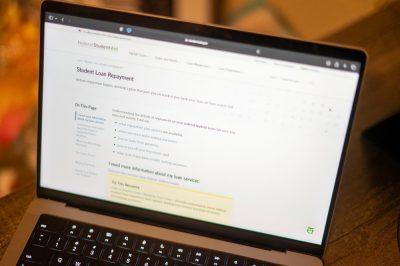 However, with the COVID-19-era pause on student loan repayments resuming as of the start of October, Smith herself feels an "element of stress."
When Smith started at BU last year, one of her loans was subsidized — she didn't have to pay interest on it until after graduation. In this round of the Free Application for Federal Student Aid, that loan became unsubsidized. With repayments starting again, interest will start accruing. 
"It made me more aware of the situation and also made me start acting on a lot of the things [that] had been pushed out of my mind because of the policies," Smith said.
Smith is one of approximately 34% of Boston University undergraduates who take out Federal Student Loans, according to an email from BU spokesperson Colin Riley. The median debt after graduation is $23,750.
For Cat Tibbetts, a senior in the Questrom School of Business, the repayments resuming wasn't her main disappointment — it was the Supreme Court's June decision to strike down Biden's plan to cancel up to $20,000 in debt for 43 million eligible Americans.
"It would have been insanely beneficial towards me at least because that meant I would have been able to really duck most of my public federal loan debt," Tibbetts said. "It's unfortunate that it wasn't voted into place." 
Smith, a double major in Film and Television and Media Science, said her debt plays a big role in the sort of future she sees for herself. While she dreams of going into sports broadcasting, she has to "wrestle" with the fact that that's a "hard area to break into." 
Instead of searching for her big break, Smith is looking for a more realistic gig.  
"[Student loan repayments resuming] pressures me to think more about my future," she said. "It's made me focus less on what I want to do and more on what's practical for me to be doing so I can get that burden out of the way."
Tibbetts is grateful for the flexibility a business degree will afford her when it comes to job searching, but student debt does impact her salary expectations. Between the cost of living in Boston, where she hopes to stay after graduating this coming May, and making her monthly loan repayments, her salary expectations limit the sort of jobs she can look forward to. 
"For people who want to go to a really expensive school like BU and can't afford to pay for it,  unfortunately, scholarships can only cover so much," Tibbets said. "You have to be ready to put the work in to make sure that once you're graduating, you have a high income entry-level job available to you."
Tibbets said those jobs are very limited, which puts pressure on students to choose a major based on financial success, rather than what they're passionate about. 
Luckily, Tibbetts finds she can talk to her close friends about student loans and financial health. In her circle, the subject isn't "taboo," which is something Pedro Falci, the Director of the Wellbeing Project at BU, said is one of two key pieces to managing financial anxiety. 
Falci, who directs the programs associated with Student Wellbeing and Wellbeing Grants, said in his own circle, no one talks about how much money they make, but they do talk about selecting credit cards, "the woes of finding an apartment in Boston" and their general financial experiences. He finds this helpful in combating how taboo money is in American culture. 
"Having people to talk to who you trust and support and there's mutual love built in is really, really helpful," Falci said. "That way, you're never feeling like you're in it alone and you have to fend for yourself."
The other part of the equation, he said, is to become as financially literate as possible — whether through YouTube (the good parts of it), reading books (like he did soon after graduating) or the new Kindros platform.
Kindros is a new "self-guided platform where you can learn about all these fundamental financial building blocks that really will get anybody up to speed on the money stuff that sometimes causes insecurity," Falci said. The platform was rolled out at BU this semester as a "team effort" by BU Financial Assistance and the Wellbeing Project.
"We want students to use their time at BU to start cultivating some healthy habits around their relationship to money," Falci said. "When it comes to money, the sooner you learn and get some of those concepts under your belt, the better."
For Smith, student loan repayments resuming meant having to make plans for the future, even though she expected to have a couple more years to do so.
"Honestly, I think everybody who has federal loans is probably thinking about them," Smith said. "It weighs pretty heavily on everyone's minds."