Fiona Whittington was not an average advertising student, to say the least. Whittington, who graduated from Boston University in 2019, taught herself how to code — a skill not typically taught to students in the College of Communication. With each passing year at BU, Whittington found herself spending more time in the Rafik B. Hariri Institute for Computing and Computational Science & Engineering, rather than in COM.  
An interest in web development and photography led her to start teaching herself code. She enrolled in a web development class to pursue this new interest during the second semester of her freshman year. Around the same time, she started working at the Hariri Institute. 
"It really wasn't the coursework itself that made me want to get into computer science," Whittington said. "It was a good entry point and a positive stepping stone, but really, it was the Hariri Institute that made me interested in it as a serious career endeavor."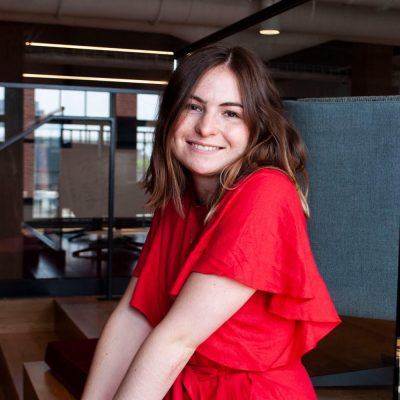 Now, she combines both of her passions — advertising and coding — as the director of strategic initiatives for Major League Hacking, the official student hackathon organization, according to their website. 
"We have one of the largest communities of early-career developers in the world," Whittington said. "On a daily basis, I'm working with hundreds of thousands of developers, and I would not be able to do that without having a technical understanding."
Whittington said her education at BU was imperative to building this understanding. Due to the lighter coursework of her COM courses, she said she could focus more on other classes and extracurriculars, where she learned skills that equipped her to enter the workforce. 
She spent a lot of her time at Spark! — an innovation and experiential learning lab for computer science projects — but that was before the organization resided in a shiny building, back when it was just an idea.
Last week, Whittington visited the Center for Computing and Data Sciences, which opened in January, for the first time — an experience she described as "very emotional." 
Ziba Cranmer, the director of Spark!, has worked with Whittington since Cranmer's first day on the job, and described Whittington as "student employee number one."
The pair worked together closely in building the Spark! brand. 
"When we were picking the Spark! logo, they had no idea that it would still be around today," Whittington said.
Cranmer said Whittington's advertising experience came in handy in the beginning, as she handled all communications and spread word of Spark! to boost its engagement and membership. 
"She helped us really get started," Cranmer said. "We couldn't have done what we did without her."
Cranmer said Whittington's unique background in both advertising and coding helped her realize what was missing in Spark! — "an inclusion-centered approach" that left no student behind. 
During the summer after her sophomore year, Whittington created SheHacks, a 36-hour student-run hackathon open to all female and nonbinary individuals. The hackathon was held on BU's campus and operated in collaboration with other Boston schools. 
The competition grew in size with each subsequent year, Cranmer said. SheHacks relocated from the top floor of One Silber Way to the George Sherman Union to Agganis Arena. 
Tracy Schroeder, the vice president for BU's Information Services and Technology, described SheHacks as a "big spark" for those who had no experience in coding. 
"It really brought a cohort of hundreds of femme and nonbinary people together to code and support each other in coding, and that was what was remarkable about it," Schroeder said. "It wasn't one person at a time. It was everybody together."
In the summer after Whittington's junior year, SheHacks was rebranded as TechTogether in an effort to expand inclusivity and foster participation among all underrepresented groups.
TechTogether was later bought out by Major League Hacking, where Whittington currently works. 
Spark! and TechTogether are not Whittington's only contributions to coding — she also founded the BU branch of Girls Who Code. 
Whittington said she felt the need to start the club at BU because there were no "pathways for women to get together and support each other" in computer science. 
"The girls that I met in that club, I still keep in touch with and run into sometimes in San Francisco, actually," Whittington said. "They're doing really great in their professional careers, which is really rewarding to see."
Whittington also worked with the BUild Lab, an innovation center for entrepreneurship, when it was just starting out. 
Ian Mashiter, the director of curriculum at Innovate@BU and a master lecturer in the Questrom School of Business, worked with Whittington at both entrepreneurship programs and at Spark! He said that she had a specific interest in encouraging female entrepreneurship. 
"What I think made her stand out was her commitment and drive to make things happen," Mashiter said. 
Earlier this year, Woman Impact Tech named Whittington a 2024 Women of Impact Honoree, listing her in the top 50 women to watch out for in the tech industry. 
"I work with a lot of women in tech, both as just my friends and as my job," Whittington said. "These women are so talented and deserve to be treated fairly, paid appropriately and so on. So it's really great to be able to be a part of a list of women who are empowering others."
Whittington advises students to take advantage of their time in college and explore something new, which will help them get ahead in the future. 
"Tech is a part of every job now," Whittington said. "If you want to be job ready, or be ahead of your classmates, making sure that you are getting that training sooner, rather than later, is going to be really helpful for you."