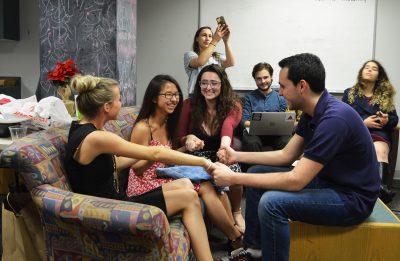 The Your BU slate won this year's Boston University Student Government Executive Board election, beating the B-trU slate, Student Election Commission's co-chairs announced at the SG office Tuesday night.
Next year's SG E-Board will include SaraAnn Kurkul as president, Piergiacomo Cacciamani as vice president, Eva Jungreis as VP of internal affairs and Bernie Lai as VP of finance.
Your BU won the election with 1,264 votes over B-trU's 522 votes. Another 157 votes were cast for write-in candidates, including "Terrier Hams" and "President Brown," SEC Co-Chair Christina Lucas said.
The voting turnout was down from last year's by approximately one quarter, Lucas said.
"I think there was a lot of hype last year so people were talking about [the election], but I also think people are tired of Student Government [this year] and the issues going on that they feel aren't getting fixed," Lucas said. "It's harder to get people involved, which is why we started Late Nite [for the debate] and other events."  
However, Lucas said reforming the election policies ultimately made for a smoother campaigning process this year. The commission announced before the election that this year students would vote for each slate as a whole, as opposed to vote for individual candidates.
"The process was very simple and the slates really respected them," the College of Arts and Sciences senior said. "The slates took it seriously and wanted to focus their things on their policies and slates."
SG President-elect Kurkul said she thought the decreased voter turnout was due to fallout from last year's election result.
"The voter turnout was honestly a little disappointing because I think that had to do with some of the drama surrounding last year's election," the College of Communication junior said.
Regardless of the voter turnout, Lucas said she hopes Your BU will stay true to their policies and get the BU community involved.
"SG is so powerful, and I feel like if the slates really start implementing policies, that will create a better community for BU, and that's what I'm hoping to see," she said.
Your BU members said they were pleased with the result of the elections and hope to get their policies and plans started for the next school year.
Cacciamani said he is glad his slate's hard work paid off.
"We are pleased with the results," Cacciamani said. "We've put in a lot of work and we started working a solid month before the beginning of elections."
In addition, Cacciamani said they plan to implement their vision for Your BU by keeping in touch with the clubs they reached out to during the campaign and with the multicultural groups on campus. Your BU ran on the platform of transparency, community and sustainability.
"One of our main policies was to increase constituency of the senators, that way we definitely have more voices," the College of Engineering sophomore said. "Once we hear their voices and their problems, at that point, we can address their issues so that's how we can make your BU possible."
B-trU Presidential candidate Hector Meneses said he is content with the result of the election and is looking forward to seeing what changes Your BU will impose next year.
"I am very happy of this whole entire election process," the sophomore in the Questrom School of Business said.  "It just shows the transformation from last year's election to this year's election, and I'm looking forward to what Your BU has to show."