Boston is a lively city, well-equipped to serve businesses, students and residents. In a city so full of life, there are some especially pertinent topics that may pop up in scholarly discussions or casual conversations. Here's a brief rundown of some current hot topic issues to know about in Boston.
Yawkey Way name change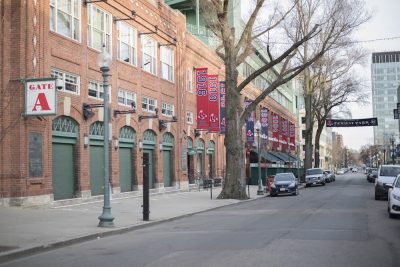 For years, the name of the street hosting Fenway Park, home of the Boston Red Sox, was known as Yawkey Way. Originally named Jersey Street, the street was renamed after former Red Sox owner Tom Yawkey in 1977.
However, following a city-wide discussion concerning Yawkey's supposed racist history, the Boston Public Improvement Commission unanimously voted to return the street to its original name of Jersey Street in April.
The Yawkey Way name change garnered mixed reactions from residents. Some were in favor of the change, while others strongly opposed it.
Boston to potentially house new Amazon headquarters
In September, Amazon announced its plans to build a second headquarters, dubbed HQ2, that will operate as a "full equal" to the company's current headquarters in Seattle.
Many cities sought to house the new headquarters, due to the prospect of 50,000 new jobs and billions of dollars in revenue the new headquarters would create.
Boston was one such contender. In October, Boston unveiled its bid to house Amazon's second North American headquarters.
Boston Mayor Martin Walsh told The Daily Free Press in October that the proposal centers around Suffolk Downs in East Boston and satisfies Amazon's desire for a location close to the airport, accessible to public transportation and near the highway.
Amazon revealed a shortlist of cities being considered for their new headquarters in February and Boston made the cut.
Then, Aiera, Wells Fargo Securities' artificial intelligence tool, predicted that Amazon's second headquarters will be located in Boston. AnnMarie McDonald, the vice president of communications at Wells Fargo, told The Daily Free Press in March that Aiera ran a query that analyzed online published research and ranked the potential cities based on which seemed most likely to win the Amazon headquarters sweepstakes.

While Amazon has not yet decided where its second headquarters will be located, it is likely to have a major economic impact, particularly on housing and rent prices, if it does end up in Boston.
Gun Control
Across the United States, the topic of gun violence has been widely discussed. After a mass shooting Feb. 14 at Marjory Stoneman Douglas High School in Parkland, Florida, left 17 people dead, there has been a nationwide call for stricter gun control.
The movement for gun control came to Boston as well. On March 8, the Boston City Council adopted a resolution that supports students across the country who wish to end gun violence.
On March 12, Walsh and Sen. Ed Markey announced new gun legislation that encourages other states to adhere to the strict laws already in place in Massachusetts.
The act, titled the Making America Safe and Secure Act, or the MASS Act, permits the Department of Justice to sanction $20 million dollar grants for every fiscal year of the next five states to uphold and carry out licensing standards for gun owners and dealers.
Exactly one month after after the shooting at Stoneman Douglas, nearly 100 Boston University students gathered in Marsh Plaza as part of a national school walkout to advocate for gun law reform.
Six survivors of the shooting MSD High School spoke at a forum at the Harvard Kennedy School March 20 about advocacy and the socioeconomic disparity in the gun violence conversation.
Tens of thousands took to Boston Common March 25 to rally against gun violence during Boston's March for Our Lives. The march was one of over 800 that occured in major cities across the country.
Town Hall for Our Lives was held April 7 in Roxbury and allowed students and members of the community to question elected officials about their support for the gun reform movement.
Marijuana Legalization
In many states across the country, marijuana is being legalized for medical and recreational use. In November 2016, 53 percent of Massachusetts residents voted to pass Ballot Question 4 — the legalization of recreational marijuana.
But, there have been obstacles for comprehensive recreational marijuana legislation in Massachusetts. One action to work through these issues has been the creation of the Cannabis Control Commission, which is an independent agency that is currently drafting regulations for the legal marijuana industry.
Some municipalities have implemented bans on marijuana, while other have blocked the use of marijuana through local zoning policies and host community agreements.
On April 3, commercial marijuana applications were made available for priority certification of legal marijuana businesses in the Commonwealth. The sale of recreational marijuana is expected to begin July 1.