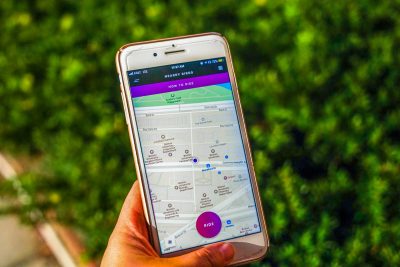 Boston may soon be bustling with people zipping through the city on electric scooters, due to scooter company Bird Rides, Inc. With the tap of a finger, citygoers could find a nearby scooter from the app and be on their way.
The City of Boston held hearings this fall to look into a spring pilot program for the company, but the City would have to first overcome regulations such as changing a state law that is interpreted as requiring vehicles to have turn signals and brake lights.

Scooters from Bird, a California-based company, have been publicized as green transportation, according to the likes of Green Matters. In the past summer, Bird first launched into the Greater Boston market, Cambridge and Somerville.
The scooter company operated for less than two months until it was pressured to leave for their lack of permit. Other cities across the United States have refused to allow the scooter company to operate within their bounds.
"Bird operates in accordance with all of the laws and regulations on the books in each of the cities in which we operate. This includes having a business license," a Bird spokesperson emailed to The Daily Free Press.
Andrew Desino, a freshman in Boston University's Questrom School of Business, said he had his first ride on an electric scooter over the summer in Cambridge and that he has seen "no negatives at all."
"I use them whenever I see them available," Desino said. "They can take shortcuts where cars can't."
Bird's rapid summer emergence in Cambridge and Somerville might be following a previous Uber timeline — the company releases the products first and then hopes the regulations follow up, according to Kabrina Chang, a professor of markets, public policy and law in Questrom.
"[Bird] just sort of started there, unannounced, and Cambridge and Somerville [didn't] know what to do about it, so they [had] to kick them out," Chang said. "Uber just shows up, and then cities, towns and country have to figure out what to do about them."
Chang said she views the potential pilot program as a proper way to test out the ambiguous regulations concerning electric scooters in Massachusetts.
"Working with the government from the beginning is a better long gain strategy — whether the existing laws need changes and whether these changes are worth it," Chang said.
According to Chang, congestion and public safety are the factors the city of Boston would be most concerned about, as Boston has "small, congested, old streets, old sidewalks."
"It's a hard environment for that kind of industry," Chang said.
Ruby Rosenberg, a senior in the College of Communication, said she wonders if the Bird scooters have inspired a surge of scooters on college campuses.
Rosenberg said she likes dockless scooters more than the current rental bikes, but if both go dockless, she would prefer a bike rather than a scooter because scooters cannot go to the same speed as bikes do.
"If you're [riding scooters] in the bike lane, you're not going as fast as the other bikes, you're potentially putting yourself in another danger because you're now an obstacle," Rosenberg said.
Dockless rental bikes, such as ofo, started operating in U.S. cities including Chicago, Illinois, and Seattle, Washington. However, ofo recently pulled its dockless bikes back from Chicago due to a rule the City put in place, which dictated that bikes in the program needed to lock into a stationary object — like a bike rack — after use.
Carolina Toledo, a sophomore in COM, said she has seen Razor, a scooter and skate company, doing promotion in front of campus.
Her friend just got her own scooter, Toledo said, because she needed a fast transportation method.
"If you own it, you're more in control of it," Toledo said.  
According to JJ Rim, a freshman in the College of Engineering, riding a scooter is a kind of expression. However, he said he is aware of the bans on them in some parts of the country.
"I think [scooters] are somewhat dangerous, but that's only because people become reckless with it," Rim said. "Negligence is mostly from people, not the object. You can't blame the product. You blame the person using the product."
Bird also has a university program in which it provides scooters on campuses across the country. Currently, 17 universities have partnered with Bird.
Colin Riley, spokesperson for BU, said BU is "very receptive" to working with the City on any future plans they have concerning this.