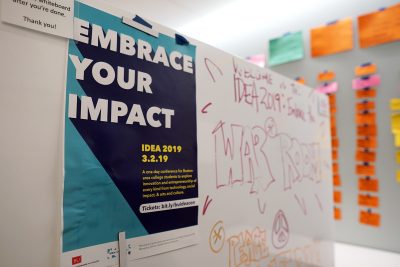 In a one-day conference focusing on innovation and entrepreneurship, the Boston University BUild Lab IDG Capital Student Innovation Center is hosting its second annual Idea Conference on March 2. Ian Mashiter, the BUild Lab's managing director, said students from the Boston area are invited to "explore ideas of every kind" throughout the conference.
"We really want this to be seen as a student event," Mashiter said. "There's lots of entrepreneurship conferences in Boston, but they don't come from a student perspective but an older entrepreneur."
The managing director said this year's keynote speaker, Anjali Kumar, was invited to speak on innovation and diversity. According to her website, Kumar — a BU School of Law alumna — is an "idea acupuncturist," largely because of her experience working with all stages of development for a large range of companies, including YouTube and Warby Parker.
Other speakers include current and former BU students, along with other entrepreneurs and business owners. Pablo Ferreyra, a senior in the College of Engineering and CEO of VERTO, Inc., a startup that helps students buy and sell used goods, will co-emcee for the conference.
"It's all about embracing your impact, so we're bringing in experts from all over the industry in the Greater Boston area to lead workshops, keynotes, as well as panels to help you at any stage," Ferreyra said.
Ferreyra said he's leading a workshop about building a startup from one's dorm room, which is what he did with VERTO, Inc.
"[I'm] really just trying to pass on some of the lessons that I learned during this process for the students that may be just starting or have started and trying to expand," he said.
The Idea Conference became a reality last year, and it was a success, according to Mashiter. Last year, Mashiter said 250 were in attendance. This year, he's hoping to up that number by 100. He said the increase in workshops and speakers will help provide students who attend the conference with a broader choice of what they want to learn.
Mashiter said members of [email protected], which offers programs at the BUild Lab, have been planning this conference for the past year. The team has been brainstorming topics for speakers to discuss — like what it takes to build a tech startup and solutions to societal issues.
"We've been working hard at this, meeting every week and really trying to provide a variety of programming to suit all of the varied interests of students," Mashiter said. "A huge range of programming will be offered."
The conference will start at 8:30 a.m. and go until 5 p.m. Mashiter explained that the morning sessions will consist of current students speaking about their experiences creating businesses. He said he hoped for attendees to be inspired by their peers in these morning sessions.
In the afternoon, various business professionals will talk about how they set up their business, the materials needed to start one and how to keep it alive. He said the evening will close with the keynote speaker "to inspire students."
The Idea Conference is a day to think out of the box for a creative, yet meaningful business idea, according to Ferreyra. He said for those still searching for that vital part of a business, he hopes the conference will inspire others to find purpose.
"The end is really going to be about how to find that deeper meaning, the purpose behind every startup, the purpose behind every innovation," Ferreyra said. "I'm really excited, I think it's going to be a fun event."
To prepare for the conference, Ferreyra and fellow emcee Archell Thelemaque, a College of Communication sophomore, had to work with speakers and school administration to fine tune the events of the day. They also spent time reading Kumar's latest book, so they'll be prepared to introduce her on March 2.
"We've truly done a lot of outreach and talking to our network here in the Greater Boston area, really trying to get people involved, and also learning how to market a conference like this," Ferreyra said.
Shena Lohardjo, the startup manager at [email protected] and a senior at the Questrom School of Business, wrote in an email that she is most excited about meeting and hearing from BU-based entrepreneurs.
"The IDEA conference is an excellent opportunity for students to explore different facets and types of entrepreneurship," Lohardjo wrote. "The speakers we have lined up come from a wide range of backgrounds and experiences that really show the different ways that entrepreneurship can manifest."
Mashiter said he wants the Idea Conference to be not just be for BU students — but for other students on nearby campuses. He said he knows of students from various colleges that will be attending and is excited about the outreach thus far.
"We really want to establish this as a regular event in the BU calendar and for students to really feel this is like a go-to event and an event where they not only get information, but get inspiration," Mashiter said.