Recording artist and musical genius Lorde released her highly-anticipated third studio album "Solar Power" on Aug. 20. As a massive Lorde fan, this was basically the highlight of my year.
Upon hearing the 12-track album the first time, I was somewhat disappointed. One of my all-time favorite albums is Lorde's 2017 album "Melodrama" — a darker pop album telling a story of self-recovery and discovery after a young heartbreak. Its production still wows me to this day, and the lyrics take my breath away every time I hear them.
"Solar Power" is very different. It comes from a more mature Lorde, now 24 years old, coming off a four-year hiatus between albums where she took time to enjoy nature and find a sense of balance within herself. Lorde seems to have, understandably, grown past her previous albums' themes of being afraid to grow up and feeling caught in the riptides of heartbreak.
For many fans, this album seems to be a complete reorientation from what we know her for. The electronic production of her past albums "Pure Heroine" and "Melodrama" are swapped for a more acoustic, guitar-centered production. Lorde has spoken in the past about her dislike of writing music on acoustic guitars, but with this new body of work, she takes a trip into this new dimension of songwriting and uses acoustic guitars often.
This departure from her norm totally pays off. It is quite a jarring change, but the sonic landscape of "Solar Power" is simple and gorgeous, transporting listeners into Lorde's wild and free mind.
Songs like "The Path" and "California" serve as windows into a life forever altered by fame. On "The Path," Lorde grapples with the pressure of being touted as the voice of a generation while "California" describes her distaste for the celebrity lifestyle.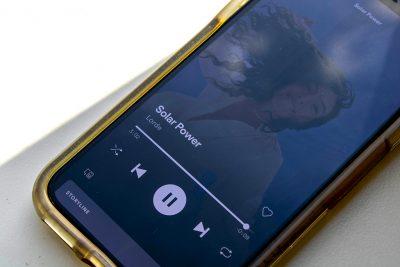 Another key theme of the album is climate change, a topic most mainstream artists do not discuss in their music. However, Lorde took a trip to Antarctica in early 2019 to learn about climate change for herself, returning with a new perspective on the world. 
"Fallen Fruit" is perhaps her most direct song about climate change, which she says is a sort of letter to previous generations. "How can I love what I know I am gonna lose?" Lorde sings, watching the world suffer immense ecological damage with few efforts being made to reverse it. She condemns previous generations for harming the world and leaving future generations "dancing on the fallen fruit" — making the best of a world in crisis.
Perhaps my favorite song on the album is "Secrets from a Girl (Who's Seen It All)." On Lorde's debut album "Pure Heroine," the big hit "Ribs" details her deep fear of growing up. Lorde said she took two chords from "Ribs" and reversed them to make "Secrets from a Girl (Who's Seen It All)," directly linking them both sonically and thematically, telling the Lorde who wrote Ribs that it will be okay.
"Secrets from a Girl (Who's Seen It All)" is a letter to Lorde's past self, describing herself now and giving herself advice on growing up. She tells herself not to give up on love and to trust that her inner voice will guide her to the best situation. Complete with a closing sermon of sorts from musician Robyn, "Secrets from a Girl" is the anthem of twenty-somethings who have grown up without realizing it.
While not my favorite project from Lorde, I can respect and appreciate the themes and artistry of "Solar Power." While I love "Melodrama," I also value Lorde's artistic growth and personal progress, which is shown clearly on this new album. "Solar Power" is a more calm and breezy body of work, but it still packs the lyrical and thematic punch for which Lorde is known and loved.
In her song "Liability" from "Melodrama," Lorde mourns the end of a relationship in which she was told that she is "too much" and a "liability" to be around. In the outro of this song, she sings, "you're all gonna watch me disappear into the sun." I see this lyric as Lorde using the sun as an image of pain and harsh reality. "Solar Power" sees Lorde take this path towards a bleak reality and come out the other side stronger and more sure of herself — a reminder that nothing is forever and change can be good.