Here are several topics — and issues — that The Daily Free Press covered last year and will through the 2018-19 school year that affect students.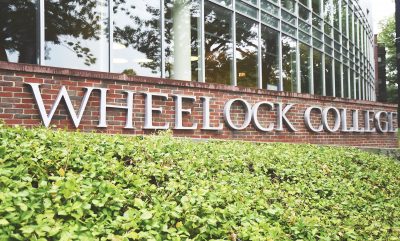 Wheelock-BU merger
Boston University and Wheelock College entered discussions about merging the two schools in late August, in response to Wheelock's financial troubles. The two schools reached an official agreement on Oct. 11, announcing that Wheelock would merge with BU's School of Education to create the Wheelock College of Education and Human Development at BU. Approximately 650 students will transfer to BU as part of the merger.
While some students from both BU and Wheelock expressed positive opinions of the merger, others disagreed. Some BU students were unhappy with the disparity between Wheelock and BU admissions standards, and some Wheelock students said the price of a BU education was too much for them to afford. Students also said they were disappointed upon hearing that more than 100 Wheelock faculty and staff members would be laid off as a result of the merger.
Implementation of BU Hub
In March 2016, the BU Task Force on General Education submitted an outline of BU's first university-wide general education program, BU Hub, to the University Council and it will be implemented this fall for the first time.
Rather than taking a specific set of classes, students will take classes in six different areas such as scientific and social inquiry, communication and quantitative reasoning. Additionally, BU Hub will introduce a new upper-level elective course called the Cross-College Challenge, in which teams of students from different BU colleges will work on a university or local initiative. BU Hub will be required for all students who matriculate in or after 2018.
Tour guides petition for pay
In March, BU admissions ambassadors started a petition with four goals: financial compensation for their work, an employee contract, more transparency in the hiring process and a work-study option for tour guides. They argued that because admissions ambassadors help bring students (and consequently, profits) to BU, they should be compensated accordingly. BU Student Government endorsed the tour guide's campaign later that month.
In early May, representatives of Tour Guides of BU met with admissions representatives to discuss their demands. No decisions on the issue have been made to the knowledge of The Daily Free Press.
BU's response to gun violence
In the wake of the Stoneman Douglas High School shooting on Feb. 14, BU student activists joined the nationwide movement against gun violence. Students held a rally against gun violence in February and participated in two national school walkouts in March and April. Students, faculty and staff members also participated in a series of active shooter trainings throughout the spring semester.
BU Admissions released a statement in February saying that high school students' admission to BU would not be jeopardized if their high schools penalized them for participating in peaceful protests. In addition, the dean of the School of Public Health and one SPH professor were chosen in April to join a consortium focused on gun violence research.
#MeToo at BU
As the #MeToo movement surged in 2017, BU faced its own issues of sexual assault and harassment. After allegations came out in 2016, BU began investigating claims that David Marchant, the former chair of the earth and environment department, had harassed several female BU graduates during their time at the school. BU's Equal Opportunity Office concluded in November that Marchant violated the university's sexual harassment and equal opportunity policies. He appealed to keep his position at BU, but this appeal was denied. BU students, faculty members and the administration began to take steps to address the issue of sexual assault. The film and television department made changes to their curriculum to address sexual misconduct. Sexual Trauma Outreach and Prevention, a BU School of Medicine student group, expanded to SPH. Finally, the BU administration announced a plan to introduce a mandatory online sexual misconduct education course in the fall.