The 2015-16 Boston University school year was one marked by voices. Different groups on BU's campus, may it be adjunct professors, BU Police Department officers, Student Government, cultural student groups or sexual assault survivors, have voiced their concerns and suggestions to the university and its student body.
Will these voices lead to changes? And what impact, if any, will these changes make? Here are several topics and issues that The Daily Free Press covered this year and will continue to cover during the 2016-17 school year.
Faculty and staff unionization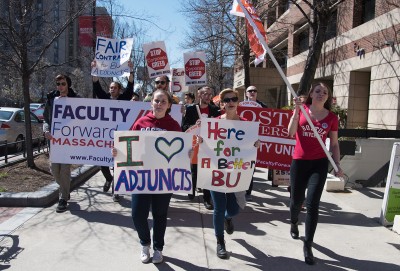 BU adjunct professors and the university reached a three-year tentative contract settlement on April 28, 14 months after they voted to unionize with Service Employee International Union Local 509. The adjunct professors demanded stable contract, higher per-course pay and funds for professional development, while the university preserves management rights. During months of negotiations, adjunct professors and student supporters organized several protests, including the one on April 14 that briefly blocked traffic on the Commonwealth Avenue.
The adjunct professor's actions started a trend. Full-time, salaried instructors and lecturers voted to unionize on April 6 and joined adjunct professors on several protests. After 10 months of working without a contract, the BU Police Department patrolmen and sergeants took to the streets in late April and passed out fliers to students to garner support for their union. The lecturers, patrolmen and sergeants are still bargaining with the university for their contracts.
Sexual assaults allegations and lawsuits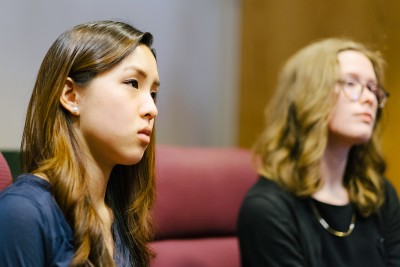 Two alleged sexual assault survivors are taking the university and their purported assailant to the court. On April 12, two female students announced they had sued a BU horn professor for sexual harassment and sued the university for failing to comply with Title IX regulations and mishandling their cases. Erin Shyr, a rising senior in the College of Fine Arts, and former CFA student Maria Currie said when they reported the alleged inappropriate behavior of their former professor, Eric Ruske, the university treated their cases as "a public relations inconvenience" rather than a serious problem.
Meanwhile, a grand jury indicted a former Massachusetts Institute of Technology basketball player May 10 for allegedly raping a female BU student in her dorm at 33 Harry Agganis Way last October. Suffolk District Attorney Dan Conley's office said Samson Donick, 20, of Tiburon, California, and another male broke into approximately 10 different rooms before sexually assaulting the victim, chosen at random. Donick plead not guilty and his trial is scheduled to begin next February.
A new Student Government with (maybe) a new constitution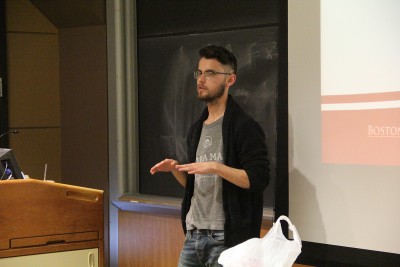 After the Student Government Senate impeached two Executive Board members in November 2015, the controversy surrounding SG seemed to never stop. Students in the newly formed group BU Students Against Silence sat in front of the George Sherman Union, protested the impeachment, and later wrote a proposal with SG members to "dissolve" Senate with a new constitution. Three plans were proposed at the Constitution Reform Committee meeting on Feb. 29, but committee members did not reach an agreement, and the constitution remained the status quo. After the new E-Board election in April, President-elect Jake Brewer proposed a bicameral legislative plan to Senate, which would have created an Upper House of the current Senate and a Lower House that consists the entire undergraduate student body. Senate rejected Brewer's proposal on April 18, and again on April 25, the last Senate meeting of the 2015-16 school year. Will Brewer be successful at reforming Senate? We'll have to see as SG meetings pick up this fall.
Cultural conflict and dialog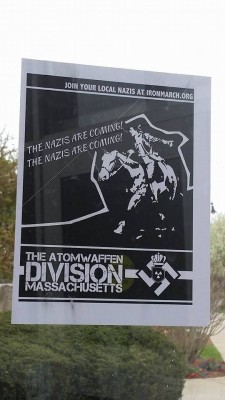 On Jan. 28, a group of BU students attended an event hosted in the Florence and Chafetz Hillel House but were asked to leave, the students claim. They said staff at Hillel discriminated against their racial background, and they demanded a public apology from university officials such as Hillel staff, BU President Robert Brown and BU Dean of Students Kenneth Elmore. In a Letter to the Editor sent to The Daily Free Press, BU Hillel Executive Director David Raphael said the students were asked to leave not because they are Palestinian, but because they were disruptive at the event and made other students feel unsafe. Later in the semester, during the Israel Indie Freedom Fest (a celebration hosted by BU Hillel and BU Student for Israel on April 17), approximately 30 members of Boston Students for Justice in Palestine protested, chanting "Viva, viva Palestina!"
Similar to many other universities in the United States, BU was targeted by anti-Semitic groups, who displayed neo-Nazi materials on campus. More than 20 office printers at BU were hacked and printed out anti-Semitic fliers between March 24 and March 31. A student reported on April 30 that they found more anti-Semitic materials on campus, only this time they were glued to walls and glass doors. "The Nazis are coming! The Nazis are coming!" one of the posters stated. BUPD is investigating the incidents, and the materials sparked campus-wide protests where students demanded the university take serious action.