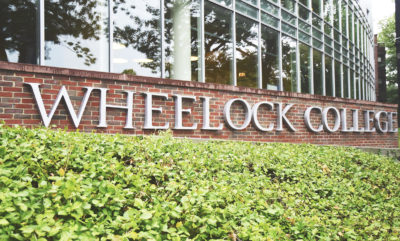 After news broke that Boston University and local Wheelock College are entering into formal talks about a potential merger, BU students expressed mixed reactions and many voiced skepticism that the plan was in the university's best interest.
Back on Aug. 29, the two schools released a joint statement articulating that the merger would be beneficial to both schools.
"We believe the merger will enhance Boston University's programs, as well as preserve the mission of Wheelock College to improve the lives of children and families," the statement read.
By the numbers, BU and Wheelock have several major disparities in terms of number of students, acceptance rates and tuition. BU freshmen were admitted at rate of 25 percent this year, while around 85 percent of Wheelock applicants were admitted. Wheelock enrolls about 1,000 total undergraduate and graduate students, compared to BU's 33,000, according to both schools' websites. Additionally, BU's 2017-18 tuition is $50,980, and Wheelock's is $34,950.
These differences have some students saying they don't understand how the merger can benefit BU as an institution and offer benefits to its students. However, details of the merger are still in the works.
Dana Afflu, a sophomore in the College of Communication, said she doesn't think these formal discussions are considering students' input as much as they should.
"As students, we really were not in the loop when it came to the decision to talk about a merger and what a merger would entail," Afflu said. "[It's] not like I was expecting it to be heard in the first place, but it would've been a nice change to see some sort of group of students representing the student body."
Sebastian Betsch, a sophomore in the School of Education, expressed concern that the merger could diminish his college's reputation.
"If the Wheelock College merger happens, SED will become the Wheelock College of Education and Human Development," he said. "This could possibly threaten the intimate image of the school."
Given the limited information available regarding the merger, Betsch said it will be interesting to see how it will ultimately impact SED.
"[SED] highlights its tight knit community as a point of pride," he said. "This community is partly a result of SED's small population relative to other BU schools," he added, noting that this factor will likely change due to the merger.
Likewise, Brittany Battista, a sophomore in the College of Arts and Sciences, said the disparity in admissions statistics may weaken BU's reputation as a whole.
"I don't think [the merger] could be good for BU, and I think it would lower the reputation and our academic standing [among] other universities," the Pardee School of Global Studies student said. "I do think [the merger] is unfair because we applied to BU, and it's hard[er] to get into BU than other schools," referring to the gap in the two school's acceptance rates.
Daphne Loyd, a sophomore in CAS, said she doesn't think the merger's purpose is to enhance both universities' programs like the joint statement suggested, but rather, it appears as more of a financial bailout for Wheelock, which has been facing financial difficulties in recent months, The Boston Globe reported.
"[The merger] feels like a business decision to help the university, not really helping BU students or Wheelock students," Loyd said.
Amid the pool of mixed reactions, some BU community members were more optimistic about the merger.
Mehek Kapoor, a sophomore in CAS, said she sees the merger in a positive light as a partnership that can diversify BU's community.
"I think it shows we're collaborating more with our fellow students within the nearby community," she said.
Vyshnavi Parthipan, a sophomore in the Questrom School of Business, said the merger could be beneficial for BU given Wheelock's expertise in liberal arts fields, like education.
"It could be good for BU in terms of having more exposure to more education classes," he said.
Similarly, SED graduate student Louise Cracknell said she thinks the merger could lead to more opportunities for BU and Wheelock students alike.
"Any time you can give students more opportunities, that definitely makes a better reputation for a school," Cracknell said. "I think anytime you have a collaboration between two universities, there's a great opportunity for a sharing of resources."
SED lecturer Robert Martinelle said he is looking forward to the merger, as SED's mission of learning and service aligns with Wheelock's purpose.
"Wheelock has an outstanding reputation as an education school," Martinelle wrote in an email. "I would only hope that the merger increases our undergraduate enrollment at SED."