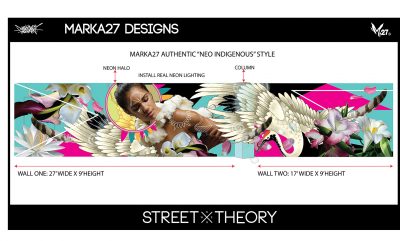 Tavern in the Square Allston has closed for the summer to undergo renovation and rebranding.
Renovations will include the installation of two new full-service bars, a new lighting system, a new audio/visual system and state-of-the-art 75-inch televisions, according to Katie Lang, a representative of Broadway Hospitality Group, which manages Tavern in the Square Allston.
The restaurant, which will reopen under the name Tavern Allston, will also feature artwork by six artists from across the United States.
"[The artists] will be taking over the place basically as their blank canvas and injecting new life into the restaurant," Lang said. "… they all kind of have their own style and vibe and it'll all kind of blend together."
As part of its rebranding, Tavern Allston will be redesigning its menu to include more vegetarian and gluten-free options.
"It'll be a less formal menu with more sharing, finger foods — more of those options to share with a group of friends," Lang said.
The menu redesign will include "fun [and] out-of-the-box" new cocktails, Lang said, including a Capri Sun-inspired "boozy juice box."
Lang said that one of Tavern Allston's highlights will be its music-themed à la carte brunch on Saturdays and Sundays.
The renovation and redesign have been in the works for about six to eight months. Tavern in the Square Allston officially closed on July 1, and is scheduled to re-open in mid-August.
"It's a pretty quick turnaround … but we hope to have all of our ducks in a row and open with a bang right before the students come back to Boston," Lang said.
There are currently no plans to renovate other Tavern in the Square locations.
Tavern in the Square Allston's surrounding colleges and position in the city, Lang said, make it a unique location.
"We've felt the love over the last seven years and we just want to do the neighborhood justice and really bring something new and fun for the students and young professionals in the area," Lang said. "We're really excited and we hope it's really well-received by everyone in the area."
Diandra Ross, a senior in the College of Communication, said she thinks renovating Tavern in the Square Allston is a good idea and could help the restaurant appeal to audiences broader than its primary demographic of college students. However, she said her one complaint is the new name.
"It's in the culture to call it TITS," Ross said. "It may seem like it's not very classy, but that's part of the joke and part of the appeal of the place to call it that — by its nickname. I get why they would want to rebrand as Tavern to show a sense of maturity, but I think [the nickname is] part of its appeal."