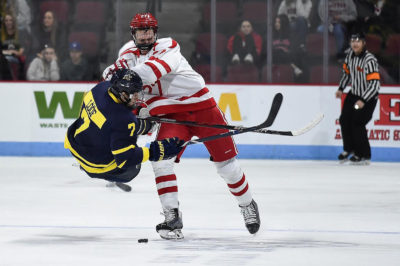 Boston University is known to be a breeding ground for future NHL stars. Dozens of Terriers have gone on to play in the NHL and make successful careers for themselves. In recent years, many BU players drafted into the NHL have immediately hit the ice and made important contributions to their respective teams. Here are some key BU alumni to keep an eye on this hockey season.
Although we're only a little more than a week into the hockey season, there are already plenty of eyes on left wing Brady Tkachuk, who received a lot of buzz prior to his NHL debut. Selected fourth overall by the Ottawa Senators, Tkachuk notched 31 points for the Terriers in the 2017-2018 season. Senators owner Eugene Melnyk stated prior to this season that the team is focused on rebuilding by adding young talent to the roster. The team has already made some questionable decisions that may negatively impact their play during this rebuild, so it will be interesting to see how Tkachuk plays and if he does bring that young talent they're looking for to the ice.
Another former Terrier to watch this season is left wing Jordan Greenway. The 6-foot-6-inch, 227-pound Greenway provided a dominant physical presence for the Terriers in his three years at BU, tying the lead for points in 2018 with 35. He also represented Team USA in the 2018 Olympics, and after returning to the United States and finishing the season with the Terriers, he began playing with the Minnesota Wild, where he tallied one assist in six games. Now that he has an entire season of professional play ahead of him, expect to see that dominant style of play make an impact on the Wild's offense.
Clayton Keller has already proven his scoring ability after spending a full season on the Arizona Coyotes last year. Selected seventh overall in the 2016 draft, Keller left BU to play for Arizona the day after the Terriers were booted from the NCAA tournament by the University of Minnesota Duluth. Last season, he led the Coyotes in points, playing all 82 of the team's games and earning a total of 65 points with 23 goals and 42 assists. In the team's first two contests of this season, Keller did not score any points for Arizona, however, that should be expected to change quickly, and it would not be surprising if he surpasses the 30-goal mark this season.
Defenseman Charlie McAvoy is another former Terrier who already has a full NHL season under his belt. McAvoy already has a head start in the scoring category for this season, notching three assists in the Bruins' Monday game against Ottawa. Averaging about 22 minutes on ice, McAvoy played in 63 games for the Bruins last season. He suffered a knee injury two months after undergoing surgery for an abnormal heart rhythm. If McAvoy can stay healthy, he should be able to provide Boston with that consistent play he exhibited last season, but there is never a guarantee that he — or any player for that matter — will be able to avoid injury for an entire season.
There can't be a discussion of recent BU alumni in the NHL without mentioning Jack Eichel, the second overall draft pick by the Buffalo Sabres who is entering his fourth season in the NHL. Eichel has averaged 59 points in his first three seasons, but the Sabres have continued to struggle, placing last in the league in two of their last four seasons. It's no secret that Buffalo needs help pulling itself out of this streak, but the fact that after the Sabres' first three games of the season they have a winning record for the first time since 2013 could be a good sign that things are turning around.
In this year's offseason, Buffalo acquired Tage Thompson, Patrik Berglund, Vladimir Sobotka and two draft picks from the St. Louis Blues for center Ryan O'Reilly, a haul that could provide the Sabres with some much-needed talent this season.
Finally, one of the more interesting offseason additions to the NHL is former BU coach David Quinn. In May, the New York Rangers announced that the team was hiring Quinn as the team's new head coach. After a shaky 2017-2018 season in which the Rangers finished 12th in the Eastern Conference, they were looking to rebuild and rise to the top of the Metropolitan Division once again.
So far, that's not looking too promising. The Rangers have lost their first three games of the season, giving a less-than-stellar first impression of Quinn. Although his experience coaching college hockey can help him develop young talent, the team needs to expedite this adjustment period that seems to be taking place if they want to avoid digging themselves further into the loss category.